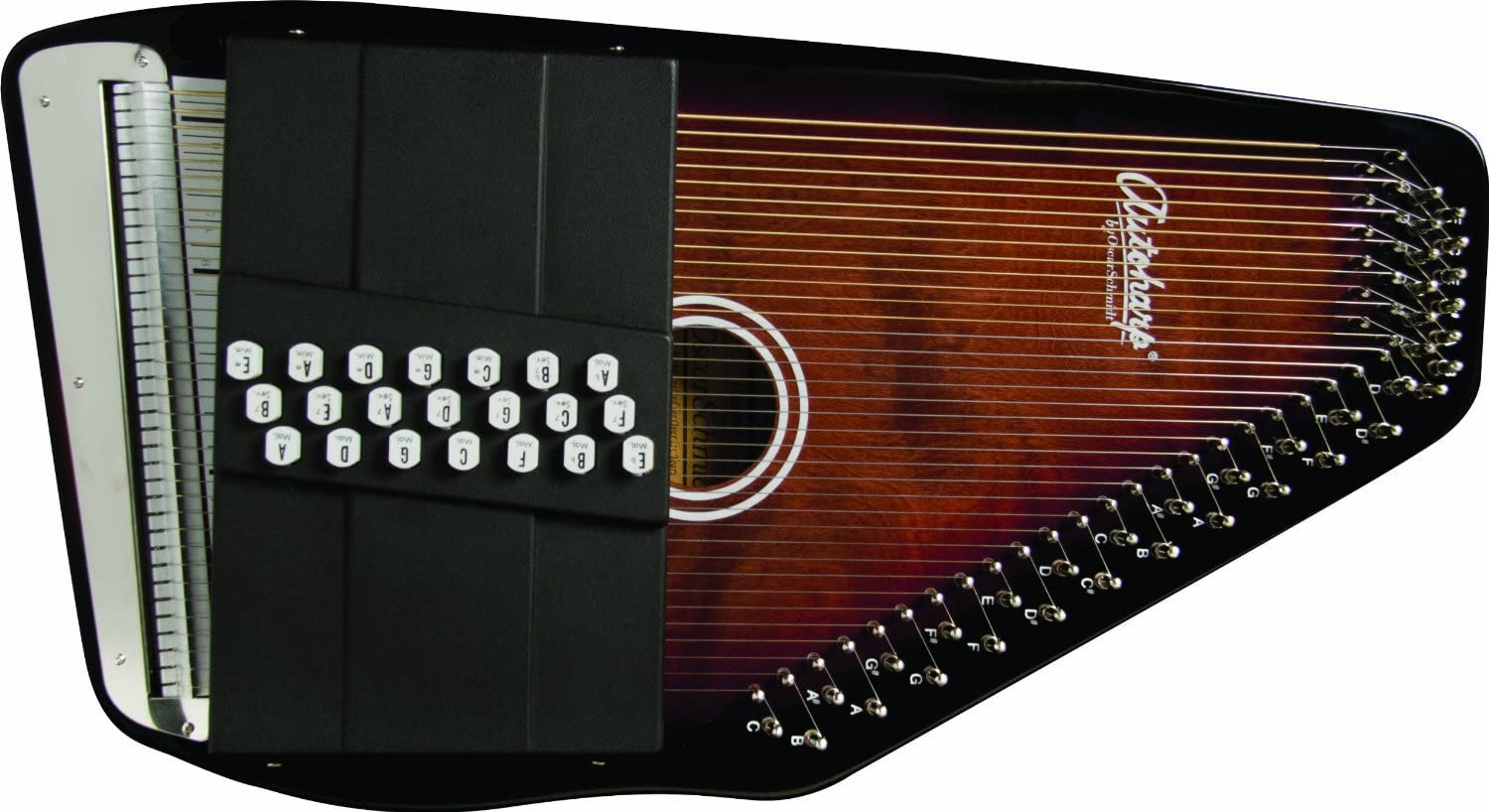 The autoharp is a unique musical instrument that is in the zither family. The autoharp features a sequence of chord bars that are attached to dampers.
When the chord bars are pressed, the dampers press against the strings, muting the sound, so only the desired strings are played.
Table of Contents
What Is The Best Autoharp for Beginners?
There are many good autoharps on the market, but some are better suited for beginners than others. If you are searching for a new autoharp, consider the following brands and models.
Oscar Schmidt OS21CE
Oscar Schmidt is an autoharp maker that is well-respected in the industry. This is a 21-chord instrument, which is the most versatile if you plan on sticking with the autoharp.
With this 21-chord model, you can play a wide array of music, without being limited in your chord choices.
This model has a beautiful sound, and is more affordable. It features a rock maple pin block, which is important for beginners because it helps to keep the instrument in tune longer.
Click here to check the latest price on the OS21CE.
Oscar Schmidt OS21CQTBL Autoharp
The Oscar Schmidt OS21C Autoharp is Oscar Schmidt's best selling autoharp. it has a sturdy and solid construction and gives what many users call a beautiful sound. The OS21CQTBL features 21 chords, play in eleven keys all with great sound and quality workmanship.
The OS21CQBL Autoharp is a great choice for players of all levels.
Chromaharp 21
Chromaharp is the biggest competitor to Oscar Schmidt, and they have been making autoharps since 1968. Chromaharps are made of maple, and Oscar Schmidt models are made of a mixture of maple and spruce.
This Chromaharp model is the 21-chord model, but there is also a 15-chord model if you prefer. Both companies make their instruments using the latest advances in technology, mixed with the old ways.
Click here to check the latest price on the Chromaharp 21.
---
What Are The Origins of The Autoharp
There is quite a lot of debate over where this instrument came from. The earliest mention of an autoharp was in 1882 when a German immigrant by the name of Charles F. Zimmermann was awarded a patent for a stringed instrument that offered muting options. He called it the autoharp.
Another German, Karl August Gütter, got a British patent around 1884. His instrument was called the Volkszither, and it most closely resembles the instrument we know today as the autoharp.
Is the Autoharp Easy to Play? Is It Easy to Learn?
While this instrument looks complex and intimidating to some, it is one of the easiest instruments to play.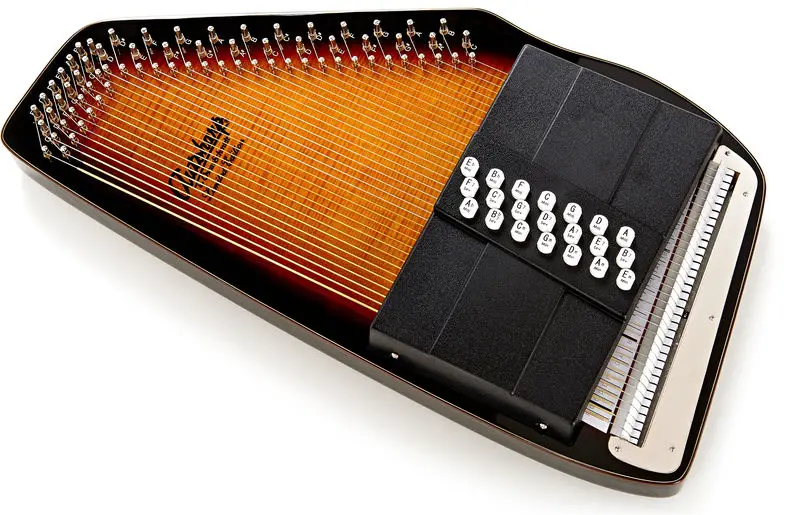 This fretless stringed instrument has chord buttons that feature small felt pads. When you press the buttons, the strings are muted, allowing only the strings that are a part of the chord to ring out.
The autoharp was invented as an instrument just about anyone could play. It was meant to be straightforward and simple. Even though it is a fairly easy instrument, it produces a beautiful sound that surprises many people when they hear it for the first time.
To play simple and beautiful melodies, you only need to learn a few chords and start strumming. This will produce delightful music, but if you want to delve deeper, there is so much more to the autoharp than meets the eye.
Playing the autoharp well takes practice. This does not mean you need to grind for hours every day. A few minutes a day will have you well on your way towards mastering this unique instrument. Ideally, you should plan on practicing at least fifteen minutes each day.
How Much Does an Autoharp Cost?
The price of autoharps, as with most instruments, varies. Basic autoharps cost around $200/£145.63. You will find custom autoharps can be up to ten times that amount.
The price does not always equate to the best quality. Before purchasing an autoharp, you need to research the maker and determine if they offer the best instrument for the price.
Many musicians first start by purchasing a used autoharp so they can save money. You can find a good deal on used autoharps, but make sure to check them carefully for any signs of damage.
How to Choose an Autoharp?
The main difference in autoharps is the number of chords. You will typically see these instruments with either 15 or 21 chords. There are also small autoharps that only have 6 chords.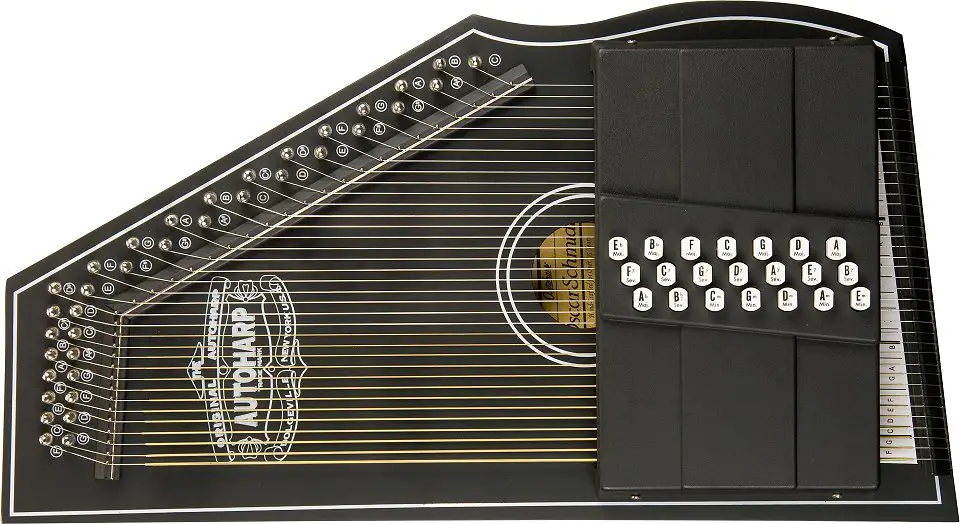 If you are on a budget and unsure whether you will stick with this instrument, it may be tempting to purchase the 15-chord model, since it is less expensive. 
Unfortunately, if you plan on playing mainstream music, this is going to limit your playing ability because you will not have access to the chords other people are playing.
How To Buy An Autoharp?
What to Look For When Buying An Autoharp
Most standard autoharps are chromatic. 
A 21-chord model will have three rows of buttons. The 6-chord or 15-chord model is ideal for beginners, but if you plan on playing varied music and sticking with this instrument, you will likely end up needing an upgrade because the 6-chord or 15-chord model will not suffice. 
Consider the following when purchasing a new autoharp.
·  If you are a beginner and are unsure of whether you will continue with the instrument for a long time, it may be wise to purchase the 15-chord. The benefits of the 15-chord are there are fewer chords to learn, the buttons are larger, and the construction is often more durable, making this instrument better suited for novices who may not know how to handle it with care. If you plan on playing for years, the 21-chord will be your best bet.
·  You will also have the option of purchasing an acoustic only, acoustic/electric, or an electric-only. Acoustics are popular in folk music. Those who want to hook up to an amp and create a louder sound will want an electric autoharp.
·  Next, you will have to choose the wood. Spruce is the standard wood used in most autoharp construction. You will also see other woods like Birdseye maple and mahogany. Although there are some slight sound differences in woods, this is mostly about appearance preferences.
·  You will also need to choose the finish. Satin finishes produce a bit of a richer sound because they have a thinner coating of protection. Gloss finishes have thicker coatings and offer a higher level of protection.
·  Finally, you will also need to choose between fine-tuning and standard tuning. With a standard tuned autoharp, you make all adjustments with the pegs at the top. With a fine-tuned instrument, you will make your primary adjustments at the top of the instrument and your secondary ones at the bottom. These adjustments are done with an Allen wrench.
Autoharp Vs. Harpsichord: What's the Difference?
Although there are undoubtedly some similarities between autoharps and harpsichords, they are also quite distinct from one another.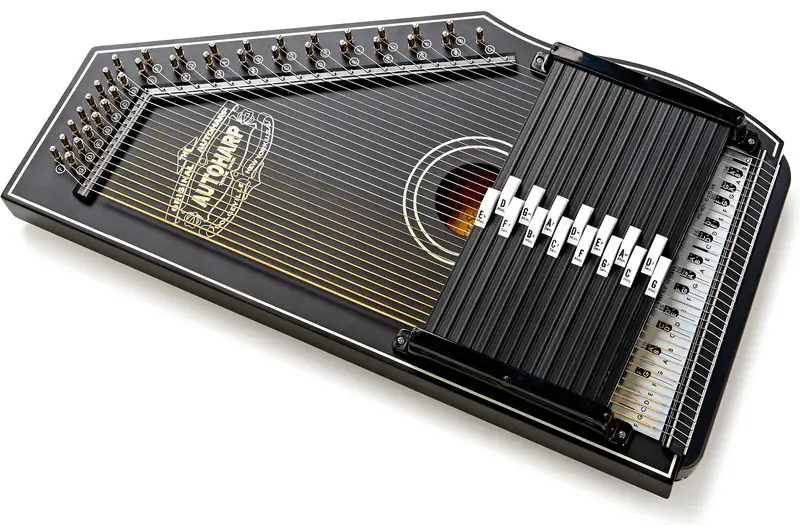 The autoharp is smaller and can be positioned on a table or in the lap of the musician while playing.
Harpsichords are played much like a piano. They are much larger, therefore not portable like the autoharp. Harpsichords require pressing the keys of a keyboard, which triggers the plucking of the strings.
Although they produce similar sounds, they are also quite different. Autoharps have a higher pitch with a crystalline sound. Harpsichords have a percussive sound with a bit of a twang.
What Autoharp Accessories Do I Need?
In the beginning, you will not need a lot of accessories. However, having these on hand will make playing and storage easier.
·  Backup strings
·  Tuner and tuner microphone
·  Carrying case
·  Tuning hammer wrench
·  Finger picks
·  Felts
A selection of accessories can be found here, try and get an idea of what you will need to get started.
Once you have your instrument and accessories, finding a good source of instruction will be helpful. Although the autoharp is a straightforward instrument, it never hurts to seek expert help.
Conclusion – Learning The Autoharp for Beginners
While some people in the music industry scoff at the autoharp because of its ease of play, it is becoming more and more accepted. With varying playing and tuning styles, musicians can make the autoharp their own.
Playing an autoharp is fun, and it is a perfect instrument for those with little musical experience. You will find this instrument to be very forgiving, which is ideal for beginners.
With the autoharp, you can create lovely music within your first hour of growing accustomed to the instrument. Once you learn a few basic chords and gain a better understanding of how to strum, you can begin experimenting with more complex chords and music styles.
The autoharp is beautiful to look at and creates stunning music, without a lot of difficult steps to remember. With the push of the chords, you isolate the strings and create amazing sounds.