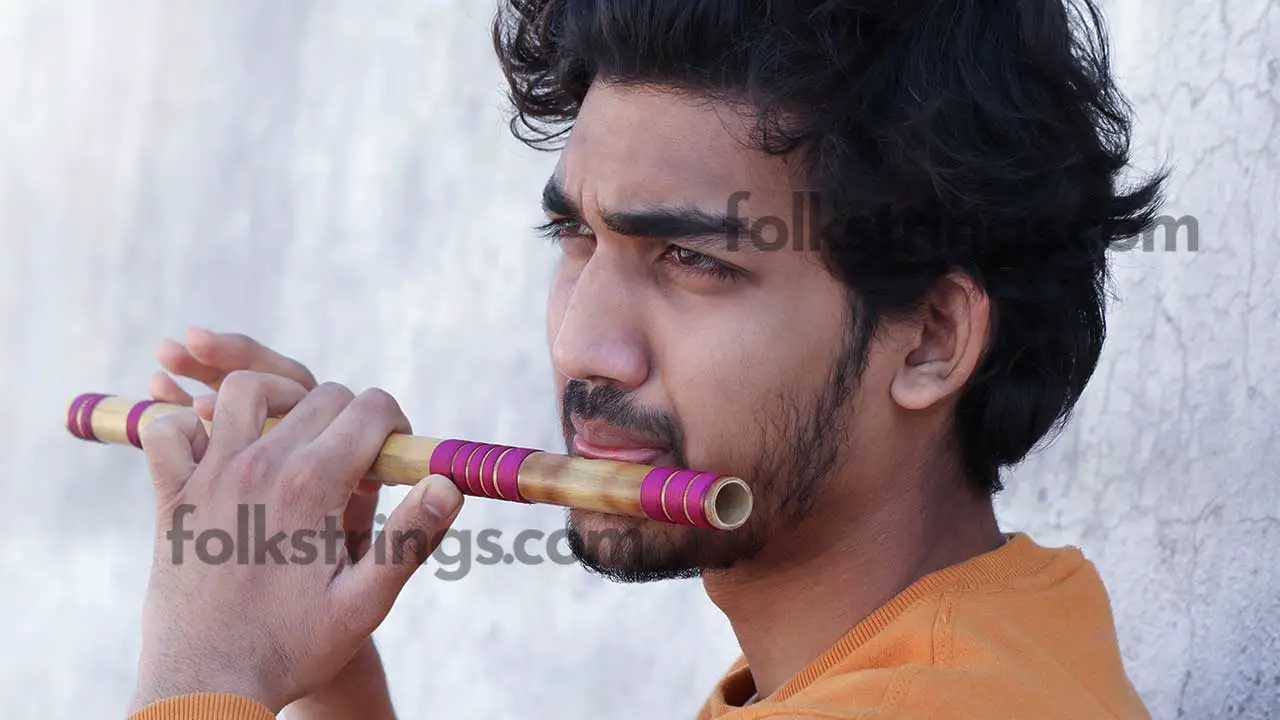 Are you thinking about learning the Indian flute?
We've all thought about learning how to play a musical instrument. It seemed impossible in the past, but it doesn't have to be that way anymore.
Advances in technology and information today gives us more options and can allow us to figure out how to play the Indian flute on our own.
But is it easy to learn the Indian flute? Even if you have the resources like Google (in general) and YouTube, you may still find it hard to study this flute independently.
So, I am writing this article to give you information on the best way you can learn the Indian flute yourself. I'll give you the resources you can try and information on the best Indian flute you can buy as a beginner. If you need inspiration, I also included some famous Indian flute players.
Let's start learning the Indian flute!
Table of Contents
What Is An Indian Flute? (Bansuri)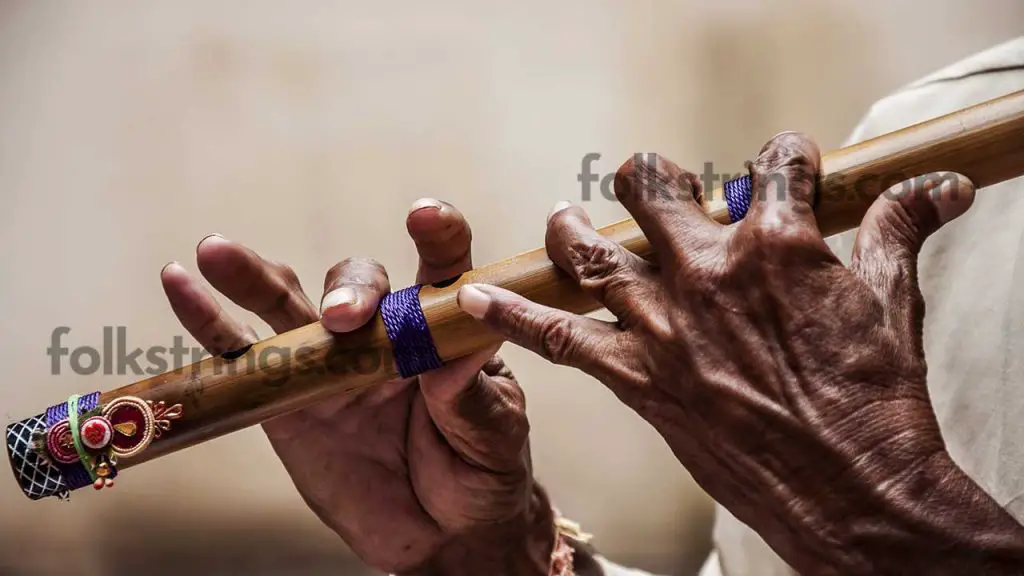 As a beginner, you should know first what an Indian flute or bansuri is.
An Indian flute or bansuri is an old flute from the Indian subcontinent blown from the side. It is a wind instrument made of bamboo used in Hindustani classical music.
I've also encountered modern designs, which include ivory, fiberglass, and different types of metals.
The bansuri is usually between 30 and 75 centimeters long and about as thick as a thumb. Longer bansuris have deeper, lower-pitched tones.
The traditional design doesn't have any mechanical keys. Instead, the musician covers and uncovers the different finger holes to get the notes they want.
Is Indian Flute Easy To Learn?
How hard or easy it is to learn the Indian flute can depend on various things such as how much you already know about music, how much time you have, how old you are, and how much money you can spend on learning.
As with most things in life, learning music on your own has both challenges and benefits. If you want to teach yourself how to play the indian flute, you need to think about where to start and what problems you might face.
Learning the Indian flute may be easier if you have studied or played music before.
People who haven't played musical instruments much or at all may find it a little more challenging to learn Indian flute, but that's no reason not to try it. There are actually some great online resources that you can access right now.
How much you want to learn depends on your goals. You might be only interested in learning the basics or want to become an expert in this field.
Learning the basics of music theory is a good place to start. This includes the music alphabet, major and minor scales, chords, and compositions.
Remember that you'll also need to know where to put your fingers on the flute. Again, you can use online resources and books to help you learn this.
How Long Does It Take To Learn Indian Flute?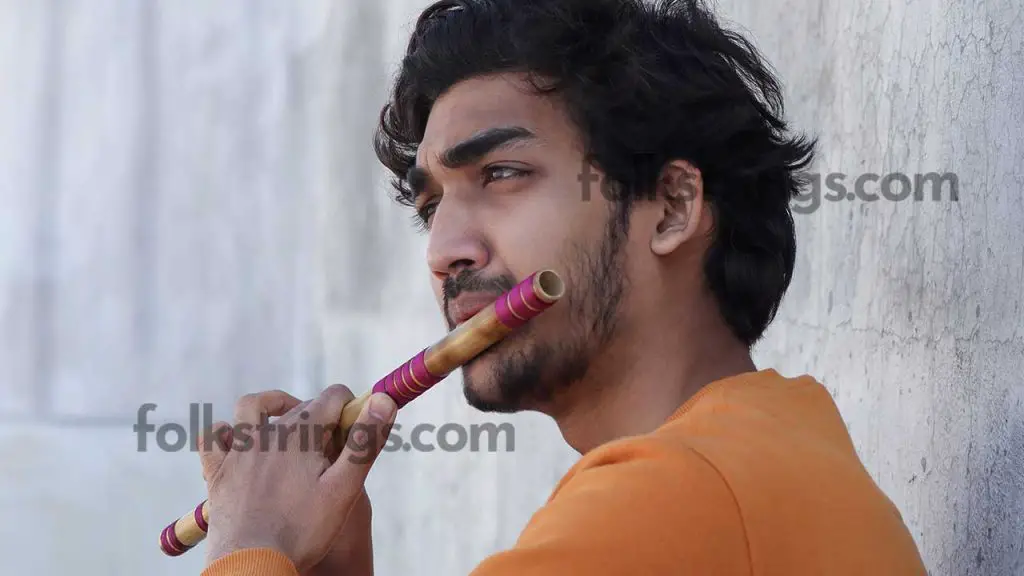 You can learn and play the Indian flute in a few months, but it can take years of dedicated practice to get excellent at it.
If you enjoy playing it, you won't really be bothered about how long it takes.
Still, it depends on what you already know and how much you practice. At the very least, it will take two years to cover the basics with mastery.
The key is to grasp the basics, and just enjoy the process of learning more about this instrument.
Even in a formal setting, learning an instrument is hard, so don't be too hard on yourself and be ready to ask for help from a teacher or an experienced flute player.
What's the Best Indian Flute For Beginners?
As promised, I'll give you some of the best Indian flutes I know. If you are a beginner, these are flutes I have either seen being played myself or that people have recommended from flute brands that are known for being good quality.
As a beginner, you'll need to invest in a decent flute. You may not necessarily need to break the bank, but as with anything, quality craftsmanship doesn't usually come cheap.
I can guarantee you that you won't experience the instrument's true tone if you choose low-quality models.
So, for the best Indian flute for beginners, have a look at the three product suggestions below.
The Foora
This bansuri is a very popular choice for beginners. It has a rich mellow tone is very well made and doesnt cost a lot at all. Don't let the price fool you, you can get a very good tone out of this flute.
Bamboo Bansuri Flute With A Carry Bag (G-Base)
This Bansuri Flute is made by hand in India from bamboo and each model is professionally tuned before being sent out. I love this flute as it is very light, is suitable for any skill level and makes a very good sound. Its versatile meaning it is perfect for performances, recording sessions, or just relaxing and practicing with.
Premium Choice
This premium 2 flute set is made and checked by Made by respected Indian Bansuri Maker 'Surfuddin'.
These have a wide range of sound dynamics and feel comfortable in any player's hands. These will of course meet all of your requirements as a beginner. The qualities I like about this flute are having a good intonation in all registers and being easy to play. I would only recommend spending this much if you are serious and committed about your flute playing.
Can I Learn Indian Flute Online?
Numerous free and paid resources online can help you learn notes. You just need to make sure you use a reputable online source.
You can learn how to play the Indian flute through the online library, YouTube, and paid or free courses.
If you are starting and want to dive right into music theory, the University of Edinburgh has a free course on Coursera called Fundamentals of Music Theory.
Another excellent resource you can use is Wikibooks. You can learn some good charts and basic methods on how to play the flute with this tool.
But, if you're a video tutorial person like me, Murtaza Kabir Murad created numerous lessons in learning the Indian flute on its YouTube channel, Easy Flute School.
Recommended Book for Learning Indian Flute
This book by Riddhi Sanyal is very highly recommended. This book contains a lot of useful information on everything from how to properly hold the flute to get the best sound to guiding you through learning your first song.
Famous Indian Flute Players
If you dream of becoming a famous Indian flute player, I included this section to inspire you in your learning and journey. There are a lot of flute players all over India. I can't name them all, but below are some well-known ones I know.
Hariprasad Chaurasia
Indian music director and classical flutist Hariprasad Chaurasia plays the bansuri in the Hindustani classical style. He is globally known as the best Bansuri player alive.
Ronu Majumdar
Ronu Majumdar is one of the best-known musicians who play this instrument. His creative improvisations are incredibly well-liked by younger people. He has worked in Bollywood, Hollywood, and classical Indian music.
Pravin Godkhindi
Indian classical Hindustani flute player Pravin Godkhindi comes from India. He knows the Tantrakari and Gayaki styles of flute playing.
Deepak Ram
Deepak Ram is an Indian-born South African musician who plays the flute, writes music, plays the keyboard, and makes records. He is known for his moving performances of traditional North Indian classical music, original compositions, work with musicians from other genres, and excellent teaching.
Shashank Subramanyam
Shashank Subramanyam is a well-known player of the bamboo Indian flute and has been nominated for a Grammy and specializes in Indian Classical Music. He has been giving the world's best concerts for over 30 years.
Conclusion
Most of the time, learning to play an instrument is an expensive hobby, but if you do it at home or on your own, you'll probably save some money.
But your first big expense will be buying a flute. Several kinds of flutes are on the market, and they all cost differently.
Note that there is a big difference between flutes for beginners and flutes for more experienced musicians, so for beginners, I highly recommend the ones I mentioned above.
Again, spending money on a good flute is essential because it will always affect how you play and how it sounds. Make sure that you have a flute that produces the best sound possible.
Also, if you really want to learn how to play the flute, you must acknowledge when you're struggling and need support.
Getting help from a professional teacher is always preferred, but online resources and tools are also a great option.
If you stay consistent and use proper methods and routines, you should become a good indian flute player in no time!