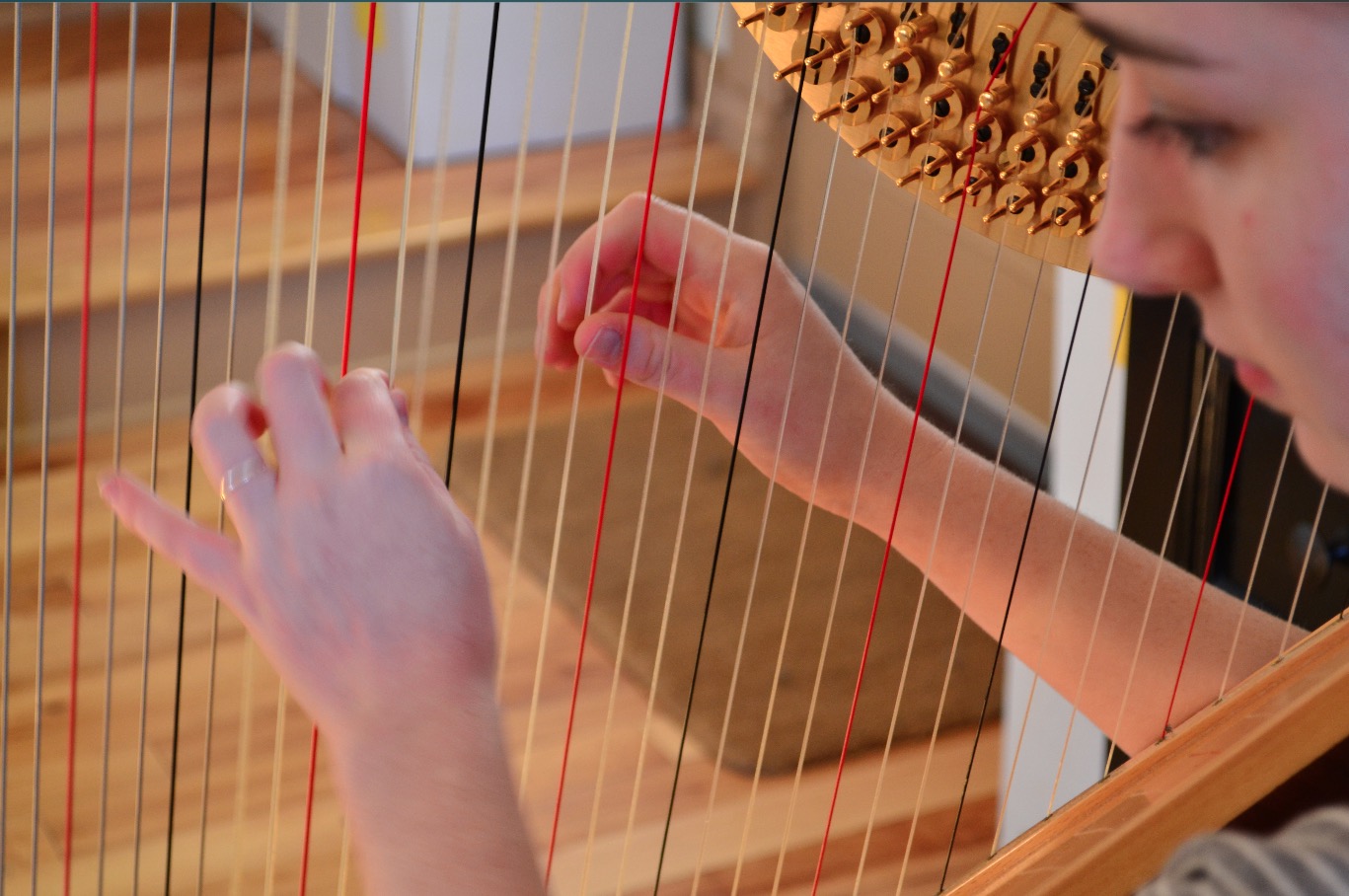 The harp is a beautifully elegant instrument with a sound that is recognizable from the very first note. It's important to clean the harp to keep it in good condition, but cleaning the harp requires gentle handling and concentration.
So in this article, we give you some useful guidance on how to keep your harp clean and well maintained. We encourage you to put aside a few hours and follow some of these steps to clean your harp because a well-maintained harp doesn't just look and sound better; you feel better playing it too.
Table of Contents
The Best Way to Keep Your Harp Clean
Get yourself a Cloth– Its an excellent idea to dust your harp regularly. Using a soft cloth such as a dry microfiber cloth you can gently run it up and down the harp's soundboard or anywhere where dust may have collected. It may seem like a useless exercise to do this all the time, but you're stopping the buildcloth, up of dust which in the long run will keep your harp looking beautiful for longer.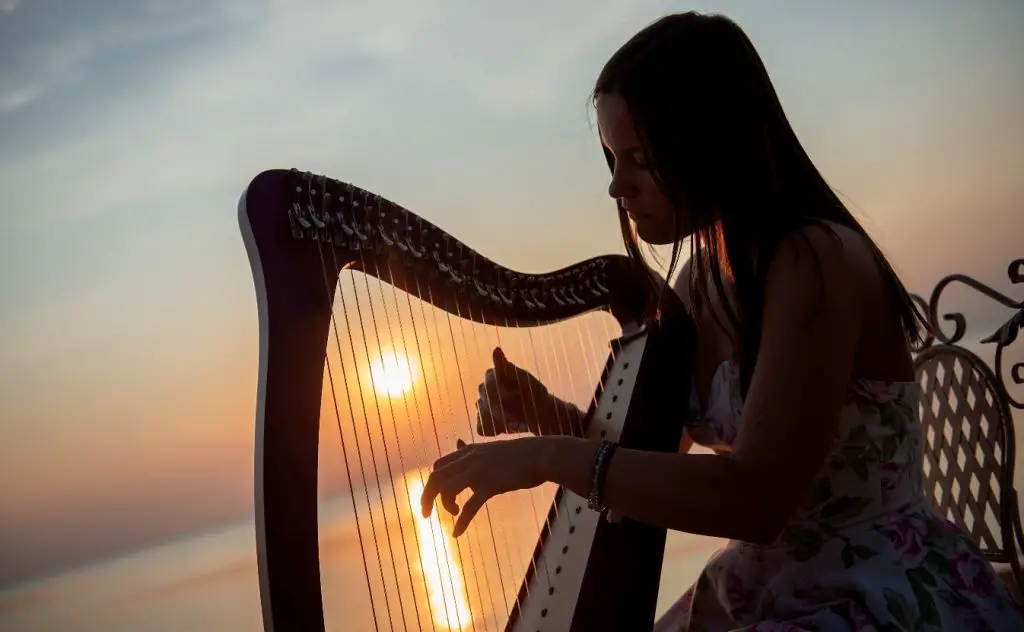 You will notice some of the action parts of the harp have lubrication grease, this grease will naturally attract dust to stick to it. This is why it's important not to store your harp in a dusty area, you don't want too much dust to get on or around your harp otherwise the mechanism will get jammed up affecting the sound quality and operation of your harp.
Get yourself a brush – If you see dust built up on the more detailed action parts such as the tuning pins, discs, bridge pins it will be harder to get in there and clean with your cloth, so the next best thing is to get yourself a soft brush. A cheap makeup brush will do, also a stencil brush is a good choice also as the bristles can be stiffer without damaging the finish, just as long as the bristles are not too hard and the handle is long enough to reach any area that might be difficult for you to reach comfortably. Wipe the dust in a downward motion from top to bottom.
The brush will also be useful if your harp has any intricate designs or carvings on the body, hard to reach areas in the corners also at the bottom where the soundboard meets the baseboard. Lightly run the brush over these areas to remove any excess dust or dirt build up.
To finish up, spray some compressed air just to release any extra specs of dust you may have missed out.
The Areas That Need a Little Bit More Attention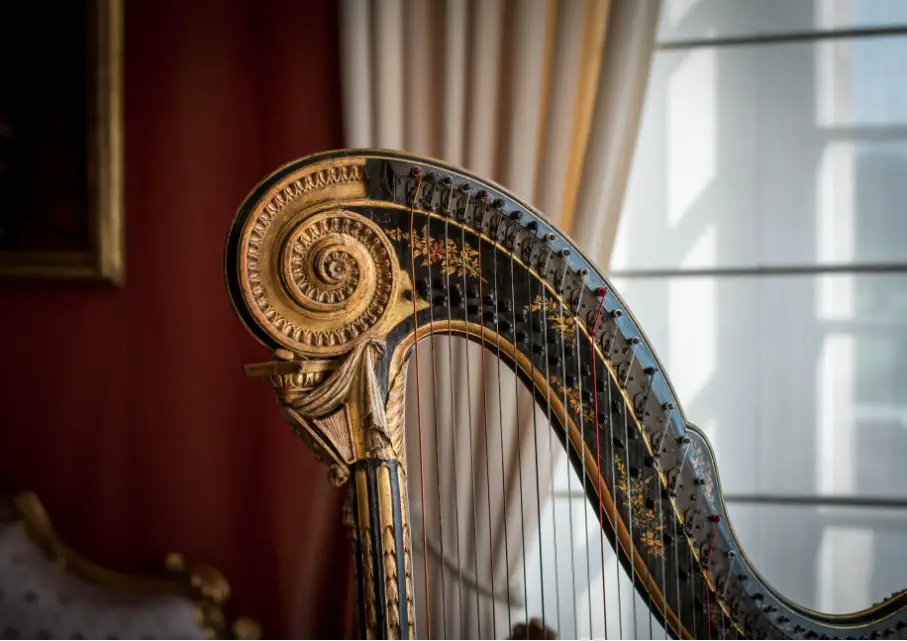 The places that your body touches more frequently are going to need a lot more attention than a light dusting, such as the upper part of the body of the harp where your arms are located during playing and the lower part where your legs and knees go, these areas need a little more attention as dirt can build up a little more quickly in these areas.
Polish off these areas with a dry rubbing motion, you may need to put a little bit more strength in, your microfibre cloth should be fine. Do this on any part you feel requires it.
Key Takeaways
Ensure your hands are clean before you start playing. The method of playing the harp, the strings grazing your fingers is naturally going to deposit and collect whatever dirt or grease you have on your hands onto the strings and body of the harp, so it's always best to ensure your hands are clean before you begin playing. The oils that gather on your hands may not be harmful to the strings as such in the short term, but on the wood finish the build up of grease is more likely to show over time and could discolour your instrument.
Avoid using or applying hand or skin lotion until you have finished playing your harp. The lotion will collect on your harp making the strings and the finish greasy and you dont want that. If it builds up over time, it can be a lot harder to remove
Polishing Your Harp
It's a great idea to periodically polish your harp with a polish specifically designed for musical instruments.
Some of these polishes come in the form of a spray or they can come in the form of a cream. Either way, you need to take care not to get any of it on the strings when you apply
Apply the polish to your cloth and NOT to the harp itself. This will keep you from getting the polish on parts where you dont need or want it to go
Remember, a little goes a long way. You don't need to use a lot at all.
Once applied, allow it to dry. Once dry, use a clean cloth and go over the same area to polish it up.
If you are keeping your harp maintained well, you probably don't need to use polish more than twice a year.
You Bought a Used Harp That Maybe Isn't in the Best Condition…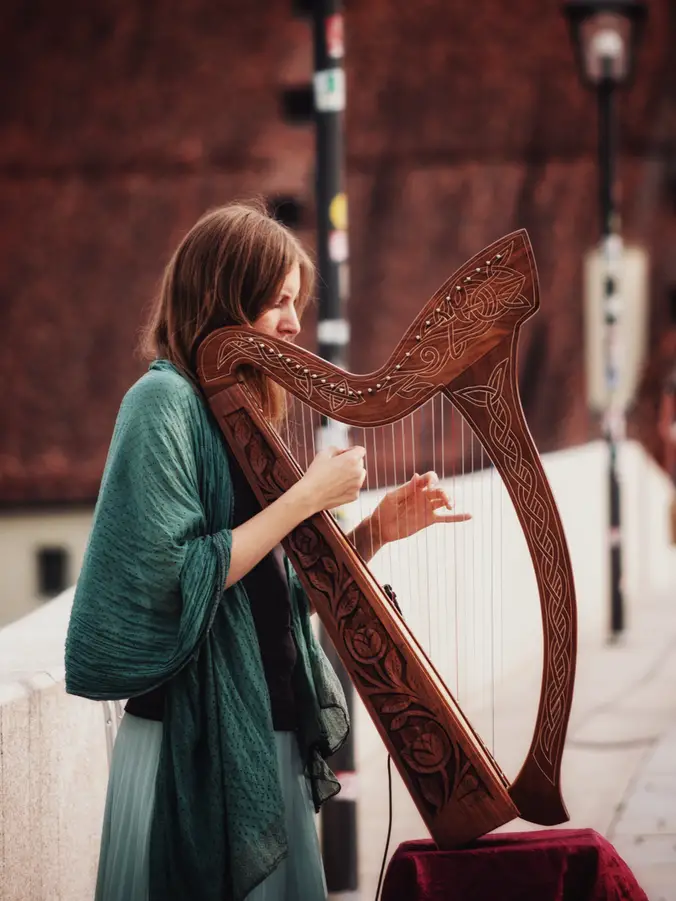 if you bought a used hard and the previous owner maybe didn't maintain the harp in the best way possible. That's not a big deal at all. You may need to give the harp a little more care and attention, but if you use the right technique it shouldn't be hard to get the harp looking fresh and new again at all.
You might find that the harp is too dirty to clean with a light dusting or dry cloth. In that case, moisten a fresh clean cloth. Dont use the same cloth you intend to dust or polish your harp with. With the moist cloth clean the harps troubled spots, dont scrub too hard. Scrub every area that has dirt built up. This should help you to loosen up the dirt and it should start to come off easily.
Follow up moist wipe down with a separate dry cloth. Once you have loosened the dirt with the moist cloth, the dry cloth will remove the dirt a lot easier.
If water doesnt get the dirt off and it's really caked in, add a mild liquid soap to your wet cloth. Dish soap works well. Follow the same procedure and the dirt should shift a little easier. Once you have finished with the soapy cloth, finish with a cloth moistened with water and then finally go over it again with a dry cloth.
Finishing Up – Storing Your Harp
In order to keep your harp free from dust, consider where you store your harp. Are you storing your harp somewhere very dusty or somewhere that maybe isn't very well ventilated? Taking into consideration where you store your harp can mean you don't have to clean it so frequently. So do bear that in mind.
Keep your harp away from direct sunlight or places that have a lot of moisture, especially try and keep it away from air conditioning units and/or heating fans.
Pay attention to the temperature and humidity in the room your harp is stored in, try to keep it as constant as possible. The wood used to make harp instruments can be very sensitive to temperatures, so just be mindful of where you choose to store your harp.