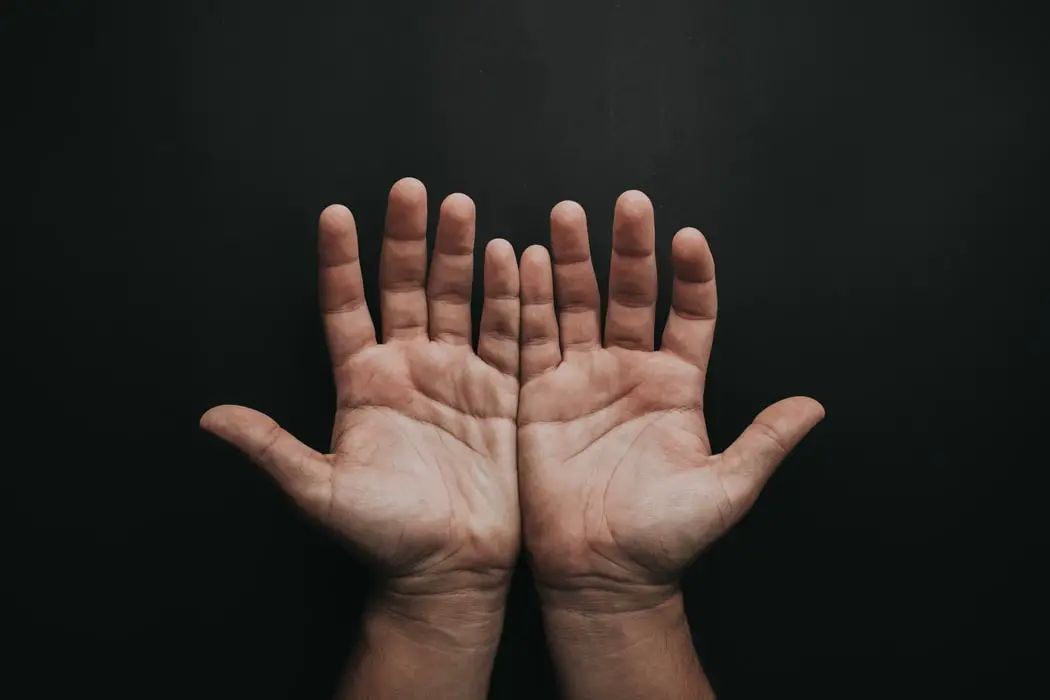 Playing guitar with arthritis is something a lot of people have trouble with.
Arthritis is a disabling condition that affects the joints of the body, causing stiffness and pain. Some types of arthritis can cause the joints to become disfigured. 
In the United States alone, 23% of adults suffer from some form of arthritis. For guitar players, arthritis in the fingers, hands, and wrists can be painful and can sometimes prevent them from playing their instruments. 
Some people mistakenly believe playing the guitar with arthritis is going to make the condition worse. Thankfully, there is no scientific evidence to back up these claims. In fact, many people believe their arthritis pain is relieved by playing guitar. 
Table of Contents
There Are Two Main Types of Arthritis.
Rheumatoid: Rheumatoid arthritis is an autoimmune condition. People with RA have healthy joints, but their immune systems attack their joints as if they are a threat to the body. RA sufferers can experience painful flares, followed by periods of remission. 
Osteoarthritis: Osteoarthritis is a degenerative condition. This type of arthritis occurs as the cartilage between bones becomes worn down, causing the bones to rub against one another. This condition can develop because of injuries, excess weight, and genetics.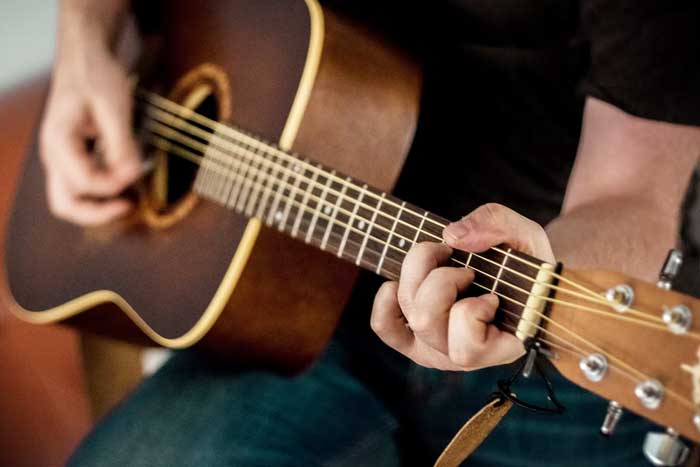 Thankfully, no matter what type of arthritis you suffer from, playing guitar with arthritis is possible, even if you have never played before. Those who only have mild arthritis can play normally, for the most part. People with a more severe form of arthritis may need to modify their playing style or use special tools that are made for those with arthritis. 
Playing Guitar for Arthritic Hands- Top Tips
While playing guitar with arthritis can be more difficult, it is certainly not impossible. Here, I will share some of the top tips that can help you overcome the pain and stiffness and continue to enjoy playing guitar or get started learning for the first time.
Prepare Yourself
One of the biggest mistakes individuals make when it comes to playing guitar with arthritis is jumping right in without preparing themselves first. Trying to play guitar when your fingers and hands are stiff can be frustrating. 
It is important to warm the fingers and hands before attempting to play. Soaking your hands in warm water or using a warming muscle rub can help improve blood flow to the hands. When your hands and fingers are cold, they are going to be stiffer and harder to move. 
You should practice gentle stretches to loosen your fingers. If you take pain medication for your arthritis, taking it before playing can help to calm the pain and improve your playing. 
It is helpful to play in a controlled environment. Too much humidity and cold can cause pain and stiffness. Keeping the room warm and dry will help you play the guitar more comfortably. 
Finally, it is also essential you sit in a comfortable chair, with the correct posture. Slouching places pressure on your spine, which can cause pain throughout your body, making arthritis symptoms worse. Sit up nice and straight and keep your body relaxed. 
Adapt Your Playing Style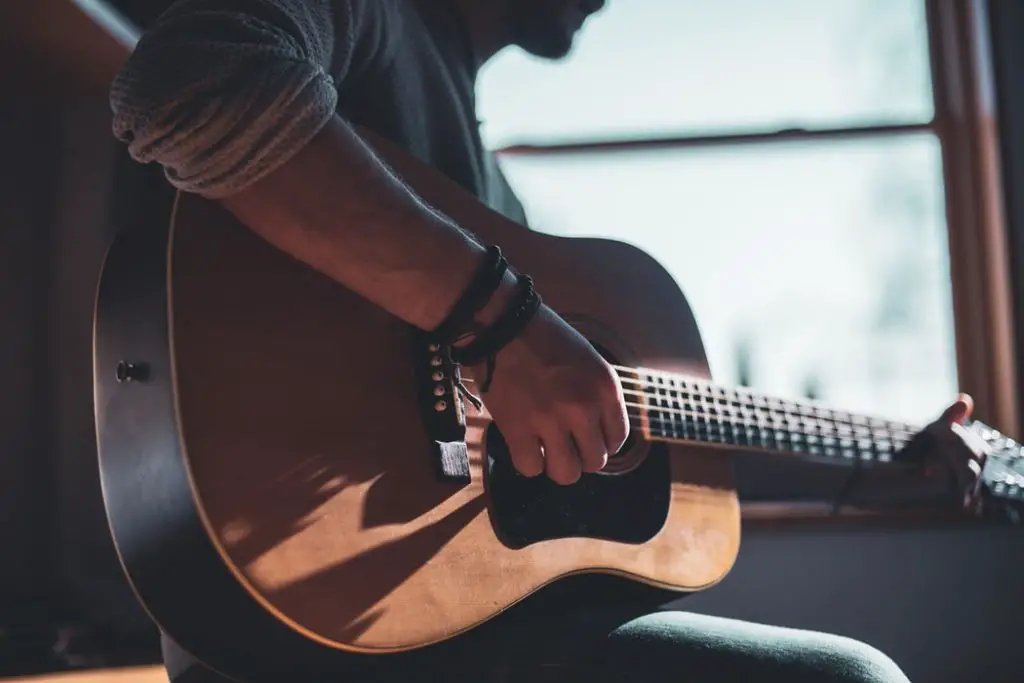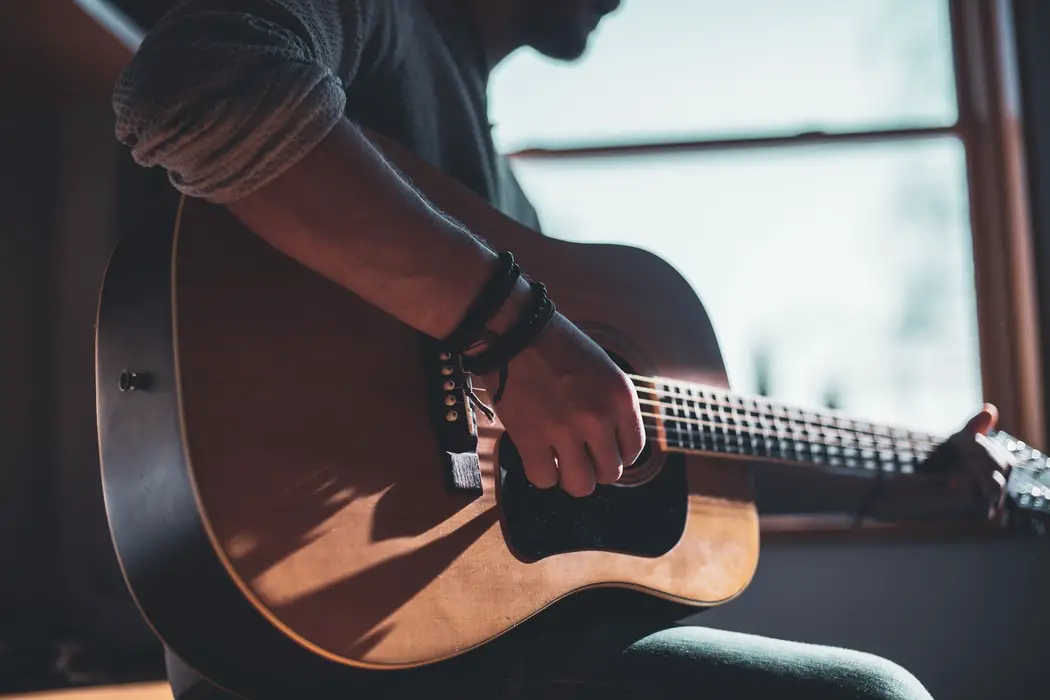 Full barre chords can be difficult for arthritic hands. Open chords are much easier and require less pressure from your fingers. If you play a lot of full barre chords, you may find a capo that will allow you to continue to enjoy many pieces of music, without putting so much stress on your painful fingers. 
A capo allows you to enjoy full barre chord music without sacrificing the sound. Try one and see how it works for you. You may find it to be a lifesaver!
Playing guitar with arthritis is a bit more difficult if you are a speed player, you are going to likely need to slow things way down.
Slow and steady playing can help keep your fingers limber and help you avoid stiffness and pain. 
Make sure to hold your guitar in a classical position, with your wrist straight. Bending your wrist too much can place pressure on your hand, which can lead to pain. Keeping the wrist straight will prevent blood flow issues and pinched nerves. 
While fretting notes, make sure to place your fingers as close to the fret as possible. The farther away you are from the bar, the more pressure it is going to take to hold your chord. 
Special Guitar Picks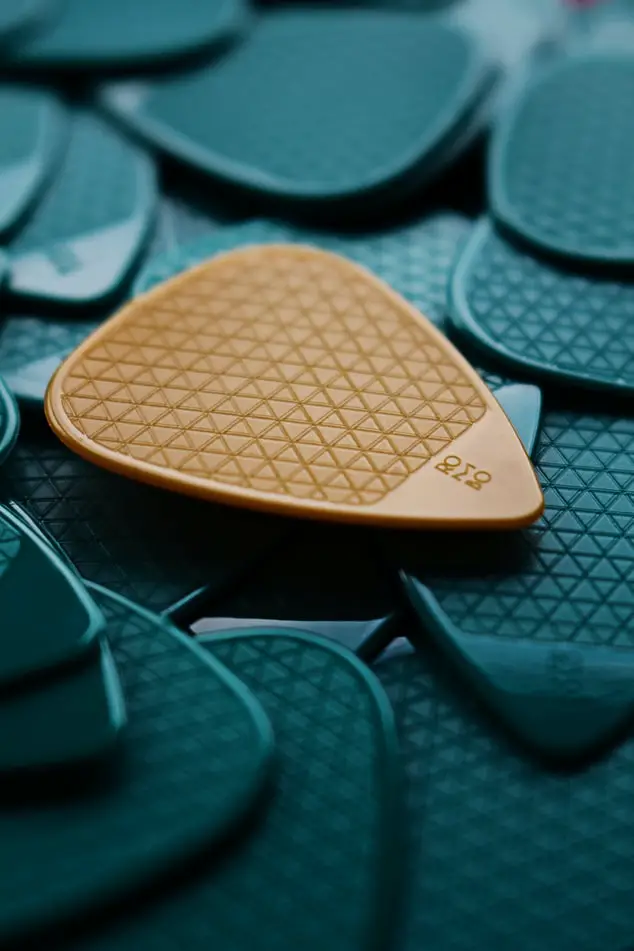 Guitar players with arthritis know giving up playing their instruments simply is not an option. With the right guitar picks, you will not even have to consider stopping. 
There are special guitar picks for arthritis sufferers. This amazing set features finger sleeves that hold the guitar pick in place, so individuals do not have to grip their pick.
Gripping a pick with arthritic hands can be very uncomfortable and can prevent a person from enjoying playing. 
These specialized guitar sleeves and picks can be used by people of all ages. They are highly comfortable, though there is a bit of a learning curve involved. 
Another option is thumb picks. Thumb picks can help you play much longer because they take less effort to pick the strings. 
Try both of these options and see which one offers you the best benefit. Using special guitar picks makes playing the guitar easier and less stressful when you have arthritis. 
Automatic Tuners
Another tool that can be highly beneficial when playing guitar with arthritis is an automatic tuner. Tuning a guitar involves a lot of twisting motions as you turn the pegs. Now with this tool, those who suffer from arthritis do not have to worry about the pain of tuning their instruments.
Automatic tuners are small robotic gadgets that tune your guitar without any effort from you. These tuners work on all stringed instruments. They can tune your guitar in under thirty seconds, so you are ready to play. 
Does Playing Guitar Help Arthritis?
When it comes to playing guitar with arthritis many musicians worry that an arthritis diagnosis will mean an end to their ability to play altogether, but this is just not the case. Many famous guitar players suffer from arthritis, yet continue to play their instruments. 
In 2014, the Arthritis UK Sunderland Group gathered to discuss the effects of playing instruments on arthritis. They discussed how playing the guitar is an excellent form of exercise. 
Many physicians recommend their arthritic patients exercise, using gentle movements that improve blood flow. Some guitar players have found playing the guitar releases endorphins that help them alleviate their pain. 
Although many people find playing the guitar to be therapeutic for their arthritis conditions, it is important to listen to your body and know when it needs a rest. Pushing through the pain is not going to offer you any comfort. In fact, it could sideline you from playing for days. 
When it comes to playing guitar with arthritis one of the most helpful and significant things is to get your pain to a manageable level before attempting to play the guitar. If you are in too much pain, you are going to be unable to focus on enjoying playing. 
How to Reduce Joint Pain from Playing Guitar
Playing the guitar is a pastime many people are highly passionate about. It is important your instrument brings you joy and not pain.
The following offers some beneficial tips that can help reduce your joint pain and allow you to continue playing guitar with arthritis and of course, doing what you love. 
It can be helpful to purchase a guitar with a wider neck. When playing guitar with arthritis, a wider neck will mean less contortion of your fingers. Although costly, purchasing a custom model may be ideal for keeping you playing. 
Stretching before you play is highly beneficial for reducing pain. You wouldn't go on a run without stretching, so do not play your guitar without warming up first. 
If you feel pain, know when to stop. Very mild discomfort can often be ignored, but serious pain is a warning from your body. When pain strikes, take a rest and let your fingers feel relief before continuing 
You should also consider using lighter strings when playing guitar with arthritis as they will require much less pressure than heavier gauge strings. 
Make sure to adjust your string height. The lower the strings, the less force is necessary for holding chords, which means your fingers do not have to work as hard to play a note. 
After a playing session, make sure to gently stretch your fingers to loosen them up and offer relief from any stiffness and pain from playing. 
Apply a muscle rub or use heat to bring soothing relief and allow your fingers to recover after playing. 
Playing Guitar with Arthritis – Conclusion
An arthritis diagnosis does not have to prevent you from playing the guitar you love. Yes, you may need to make some changes in your playing style or even modify your guitar, but taking these actions will allow you to continue to enjoy playing guitar.
Let us know in the comments how you get on.