Best Ukuleles for Kids
The ukulele is a fun instrument for people of all ages and is especially ideal for children. Many people, when they first see this instrument, automatically assume it is a small guitar for kids, but this is not correct. 
The ukulele is a highly-respected instrument that is played by people all over the world. That being said, there are some reasons this minuscule instrument is well-suited for kids of all ages. 
Ukuleles are small, so they are perfect for little hands. Some kids have trouble playing larger instruments, such as the guitar, because of the size of their hands and arms. 
The ukulele is one of the easiest instruments for beginners to learn. Children will find it simple to learn a few chords and begin to play beautiful music that encourages them to keep learning. 
Playing the ukulele is also fun. Its whimsical size and sound make it exciting for children. 
Ukuleles are also inexpensive. Most parents do not want to spend a lot of money on an instrument, especially if they are unsure if their child will be devoted to learning to play. 
Top 7 Best Ukuleles for Kids (UPDATED)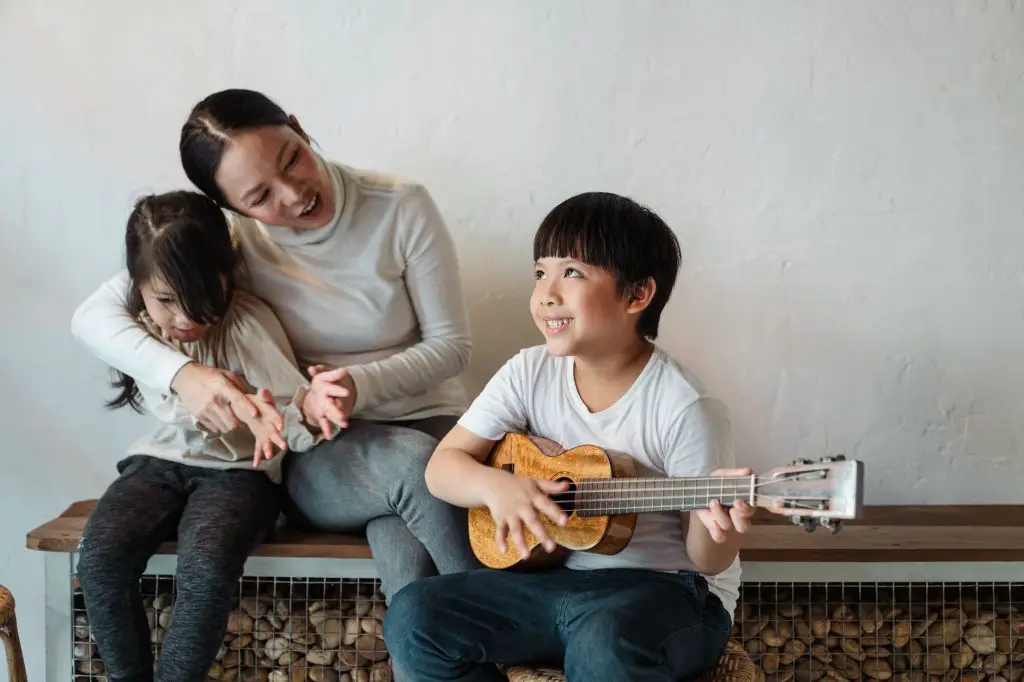 As a parent, finding the best instrument for your kids to play can seem like a daunting task. The ukulele is undoubtedly a sound choice, but which ones are best?
When it comes to the best ukuleles for kids, soprano models are a popular choice. These are the smallest of the ukulele instruments, and they have a bright and melodic sound that is appealing. 
If you are looking for the best ukuleles for kids, look no further. The following offers information on the best of the best, so you can feel confident purchasing a ukulele for your burgeoning protégé. 
1. Kala Waterman Soprano Ukulele in Seafoam Green
If you are looking for a brightly colored ukulele that is tough enough for kids, this Kala model is an excellent choice. Although Kala is fairly new on the ukulele scene, they have developed deep respect among musicians. 
This ukulele is made of rigid plastic, which means it can be taken anywhere. Your child can take it to the beach, to school, or anywhere life takes them, and you will not have to worry about them damaging their ukulele instrument. 
The Waterman Soprano Ukulele comes with everything your child needs to get started. It offers a travel bag, Aquila Super Nylgut Strings, nickel-plated open-gear tuners, and a Learn to Play and tuner app. This model is also available in glow-in-the-dark blue. 
Sale
The Waterman Soprano Ukulele by Kala in Seafoam Green (KA-SWB-GN)
Splash into the water with a Sea Foam Green Waterman - a remarkably versatile ukulele! Originally designed by Kala as an homage to 1950s Maccaferri ukulele and made to accompany any outdoor adventure.
The Waterman is the portable, take-anywhere ukulele - take it to the beach, the river, the lake, the mountains - take it anywhere!
The Waterman has been found to be a great instrument for the classroom as well— because it is durable and easy to clean! Great for ages 3 to 103!
Water Resistant, Durable, Easy to Clean, ABS Composite Plastic, Nickel-plated Open Gear Tuners, Aquila Super Nylgut Strings, Waterman Tote Bag, Learn to Play Ukulele and Tuner App
Kala ukuleles are played by some of the most renowned players around the world including: twenty one pilots, Vance Joy, dodie, EatMyUke, The Ukulele Teacher, and Zac Brown.
Pros:
Made of durable plastic, so it is practically indestructible
The frets are spaced perfectly for little hands
This ukulele is easy to clean
Comes with everything kids need to get started playing
Cons:
These ukuleles do not offer the same tone as wood versions. 
2. Mahalo MR1PP Rainbow Series Soprano Ukulele
Kids love bright colors, which is one of the many reasons they are going to ask for this model of ukulele. These are available in twelve colors, including purple, red, and orange. 
Many ukuleles marketed for kids are made of cheap materials, but Mahalo is different. Their Rainbow Series has been revamped and is now better than ever. 
These ukuleles are made of Sengon wood, which offers durability, with a lightweight appeal. Instead of cheap plastic strings, these instruments ship with Aquila Strings, which are considered the best in the industry. 
This ukulele comes in a cute box and offers a carrying bag and a free 45-minute lesson that teaches your child about tuning and getting started playing their new ukulele. 
Pros:
Made of premium materials, so it will hold up well
This ukulele is available in twelve colors
This ukulele comes with a free lesson and a travel bag
This ukulele offers NuBone XB bridge saddles, for a richer tone
Cons:
Kids may need help with tuning
3. Kala KA-15S Mahogany Soprano
Once again, here is another Kala ukulele model. Made of mahogany, this instrument offers a nice, rich sound. This ukulele comes with a Stronghold brand soft gig bag. 
This ukulele has die-cast tuning pegs that are geared, for durability. Although it is a small instrument, the KA-15S packs a big punch, allowing ukers to be heard while playing with a group. 
This ukulele is great for beginners but durable and beautiful enough for players of all levels. The neck and fretting are ideal for little hands, so children can learn to play with ease. 
Although it is slightly more expensive than some of the other models on this list, the premium materials make it an ideal purchase, especially for older children who will know how to take great care of their instrument. 
Sale
Kala KA-15S Mahogany Soprano Ukulele with FREE Deluxe Stronghold brand soprano uke soft case gig bag
The Kala Mahogany Series Ukulele offer a full-bodied tone with plenty of Sweet Highs and Mellow Lows that combine for a full rich sound
The Kala KA-15S Mahogany Soprano Ukulele offers a fresh approach to ukuleles. The KA-15S has a Mahogany top, back and sides
This Soprano Ukulele pumps out a lot of sound despite its diminutive size, and the all-mahogany construction delivers a tone that is bright, yet warm with enough volume that you will be heard while playing with a group
Kala Soprano ukulele A satin finish gives the KA-15S Ukulele an antique, well-played in feel. Guitar players will appreciate the low action and the ease of playability. ukulele kit ukulele package
Soprano Ukulele kit A set of die-cast tuning machines complete this attractive package included Case Ukulele kit Play Ukulele Cheap ukulele Ukulele parts sopranos complete series aquila soprano ukulele beginners ukulele student ukulele kala ka15s best ukulele for beginners best soprano ukulele
Pros: 
Made of beautiful mahogany wood
The tuning pegs are geared
This ukulele comes with a soft travel bag
This instrument has a rich, loud sound
Cons:
This ukulele does not come with a tuner or lessons
JDR is another producer of fine ukulele instruments. This model is made from mahogany, and the fingerboard is made of walnut. 
This JDR model comes with Aquila Nylon Strings and 18 gear nickel-plated tuning keys. It also comes with extra strings. 
This JDR Soprano Ukulele comes with a soft travel bag, picks, extra strings, and a lesson book for new students. There is also a soft cleaning cloth for keeping the ukulele polished. With this ukulele kit, your child will have everything they need to get started learning to play. 
Sale
JDR Soprano Ukulele for Beginners 21 Inch Ukelele for Children's Day Gift Kids Mahogany Small Hawaiian Guitar with Tuner Carbon Strings Protective Bag and Beginner's Manual for Adults
♪ Professional Quality Wood:The JDR soprano ukulele body is made of select mahogany, and the fingerboard is made of walnut.Unique corner cut design and colorful shells wrapped with ukulele edges make you unique.
♪ Warm and Powerful Sound:Made and polished smooth by a professional ukulele maker.Carefully designed and accurate data measurement to give the ukulele a warm, rich sound and plenty of midrange frequencies.
♪ Carbon Strings and Aquila Nylon Strings:The body of the ukulele is equipped with 4 carbon strings and 18 Gear Nickel Plated Knobs that give the ukulele a bright tone and long sustain. It is also less likely to run out of tune than other strings. The package also includes extra Italian strings as a replacement.
♪ Utility Sets:Included in the JDR Hawaiian 4-string guitar package is a set of Italian Aquila strings, 3 pcs guitar picks, cleaning cloth, curriculum manual for beginners and portable Bag.
♪ The ukulele is popular among music lovers as a simple and easy-to-learn instrument. It is perfect for birthday, Christmas, Valentine's Day, graduation gifts for adults and children alike(greeting card included).As a ukulele manufacturer, we promise free replacements for any quality problems within six months!
Pros:
Made of beautiful mahogany and walnut wood
Comes with Aquila Nylon Strings
Easy to tune and holds the tune well
Comes with a bag and plenty of extras
Cons:
Does not come with a tuner, but offers an app
5. Donner Soprano Student Ukulele
Donner is also a respected name in the ukulele industry. They are known for producing kits that include everything beginners need for getting started. This is one of those kits.
If you are a parent who is looking for a kit that will give your child everything they could possibly need, this is a great option. This ukulele kit comes with a travel bag, 4 picks, a cleaning cloth, a digital clip-on tuner, a strap, and an extra pack of strings. Donner also offers free video lessons. 
Donner Soprano Ukulele Beginner Kit for Kid Adult Student with Online Lesson 21 Inch Ukelele Bundle Bag Strap String Tuner Pick Polishing Cloth, Rainbow Series-Purple Color DUS-10P
♫ Warm Rich Sound: Soprano ukulele with well built maple body has a sweet, bright and warm sound and lasts for long. Silver chrome-plated guitar style tuners keep your ukelele always in tune and accurate intonation.12 Brass Frets with Fret position Marks at 5th, 7th, 10th frets on neck and top of fingerboard
♫ Easy to Learn with Free Online Video Lessons: Looking for an easy-to-learn instrument for yourself or your kids? Children, students or beginners adults could get a quick start with Donner 21 inch ukulele and professional free ONLINE VIDEO uku lessons
♫ All-in-one Ukelele for Beginners: Donner ukulele bundle kit includes everything starters need. Including soprano ukulele, carry bag, digital clip-on tuner, strap, extra pack ukulele strings, 4 picks and cleaning cloth
♫ A Decent Gift for Music Lovers of all Ages: Perfect for birthday, Christmas, Thanksgiving, Children's Day, school opening. A great learning instrument for music class, self-learning
♫ Wide Color Selection: Traditional soprano ukulele painted in a variety of beautiful colors, you could choose what you like
Pros:
This ukulele offers a well-made maple body
It comes with everything you need for getting started
This ukulele is available in six colors
Comes with fret position marks
Cons:
The travel bag does not zip up
6. Everjoys Soprano Ukulele Kit for Beginners
Everjoys is not as well-known as some of the other brands of ukuleles, but they make fine models that are enjoyed by people of all ages. 
This ukulele is available in basswood and eleven vibrant colors. This ukulele kit has everything you need for getting started, including a zip bag, extra strings, a clip-on tuner, a strap, picks, and an instructional book. 
Everjoys Soprano Ukulele Beginner Pack-21 Inch w/Free Online Lesson Gig Bag Fast Learn Songbook Digital Tuner Pick All in One Kit
✅ KEEP CALM & PLAY THE UKULELE - Discover the unique melodic sound of the Hawaiian Islands with our elite 21" Soprano Ukulele Beginner Pack! Now you can teach yourself the ukulele, thanks to our all-inclusive beginner's kit that includes a 21" ukulele, a digital tuner a strap and a How-To-Play songbook
✅ SUPERIOR-QUALITY CRAFTSMANSHIP - Our amazing 21" traditional soprano ukulele combines selected fine basswood for the body, solid wood for the neck and blackwood for the finger board and bridge. Eco-friendly design will make it your favorite musical instrument
✅ LEARN HOW TO PLAY WHILE HAVING FUN -12 Nickel Silver Frets with correct frets positing marked on 5th, 7th, 10th of blackwood fingerboard. The magnificent soprano ukulele features playable nylon string, easy keeping in tune nylon strings which stay in tune after playing for a while. Most string instruments initially need time to adjust to the climate and such. Continue tuning it every time if it goes out of tune, and eventually it will adjust
✅ A COMPREHENSIVE ALL-IN-ONE STARTER'S SET - Our ukulele beginners set includes a 21" soprano ukulele, a handy digital tuner, a fun How-To-Play songbook, two spare picks, a spare string, a microfiber polishing cloth,a colorful strap, a convenient bag, a printed box and a message card
✅ SAVE YOUR HARD-EARNED MONEY ON COSTLY LESSONS - With the ukulele becoming popular again, especially amongst teenager, you can finally offer your child the opportunity to learn how to play the ukulele easily with our innovative and simple ukulele beginner's set
Pros:
This is the perfect size for kids of all ages
Available in eleven beautiful colors
Includes everything you need for getting started
Well made with a smooth finish
Cons:
Needs better strings, but these can be replaced
7. Regalo Soprano Ukulele Kit for Beginners
Once again, this kit includes everything a kid would need for getting started. It includes a nice zip carrying bag with a pocket to store picks and other accessories. 
This ukulele is made from mahogany and comes with a digital tuner, extra strings, a strap, a cleaning cloth, and a nice carry bag. 
This 21-inch soprano ukulele is perfect for kids of all ages and is ruggedly built. This is not a toy!
Soprano Ukulele Regalo Guitars 21 Inch Ukelele For Beginners Kids Adults Professional Small Wooden Ukalalee Bundle Ukele Starter Kit (10 Free Lessons, Gigbag, Tuner, 4 Aquila Strings, Strap&Cloth)
✅【A Comprehensive All-in-one Soprano Ukulele Set】This 21inch starter ukulele kit has all you need to learn to play. The soprano ukulele set includes 1x 10cm padded gig bag for the security of the small ukulele instrument, 1x digital tuner with battery to keep your ukulele always precisely in tune, 1x premium quality suede polishing cloth, 1x strap and 1x extra set of 4 Aquila strings.
✅【Save Money on Costly Ukulele Lessons】Who doesn't want to learn to play music AT NO COST? Our amazing 21'' soprano ukalalee, you can easily access to ten free online video lessons taught by a real professional music instructor from California. With a few minutes a day, you will be able to play great songs on the mahogany wood stringed instrument from You Are My Sunshine to My Favorite Things. Best authentic ukule lessons to practice on for children, adults, novices and intermediate players.
✅【Quality Instrument for Amazing Sound】This 21'' Hawaiian soprano ukele pack instrument top, back and sides are well built with elegant mahogany wood with smooth walnut fretboard and bridge, The soprano ukalalee 21 inch size displays laser etched Polynesian tribe rosette, Italian Aquila Nylgut strings, open gear tuners with black button, GraphTech NuBone Nut and Saddle, professional ukelele sound you can hear at the first strum, great starter ukalali for beginners or intermediate.
✅【Great Choice to Start With Ukulele】Music lovers, make fun music for anyone, anywhere, beginner kids or adults ukalali, school, travel or at home. An awesome ukulele instrument gift for great life events such as birthdays, Valentine's Day, Christmas, recitals, graduation, celebration of friendship, etc., or a perfect way to cultivating your own gift!
✅【Buy With Confidence, Literally The Best Ukulele bundle】Our ukulele is made from real wood for real sound, not a toy uku. We guarantee the satisfaction of the ukulele and accessories, or you can exchange or get a full refund, no question asked. BEST Customer service from a California company.
Pros: 
This is a complete kit that offers everything your child will need
Solid construction and made of mahogany
The digital tuner is easy to use
Offers a NuBone saddle
Cons:
This ukulele is not available in different colors
Conclusion – Best Ukuleles For Kids
There you have it. The above are the top 7 best ukuleles for kids. If your child has been begging to learn to play an instrument, the ukulele is a sound choice. You will find these stringed instruments to be the perfect size and price for kids of all ages. 
Feel free to click through the links and learn more about each ukulele and what it offers. You cannot go wrong by choosing any of the above because they all offer excellent sound and craftsmanship, allowing your child to excel at playing the ukulele.