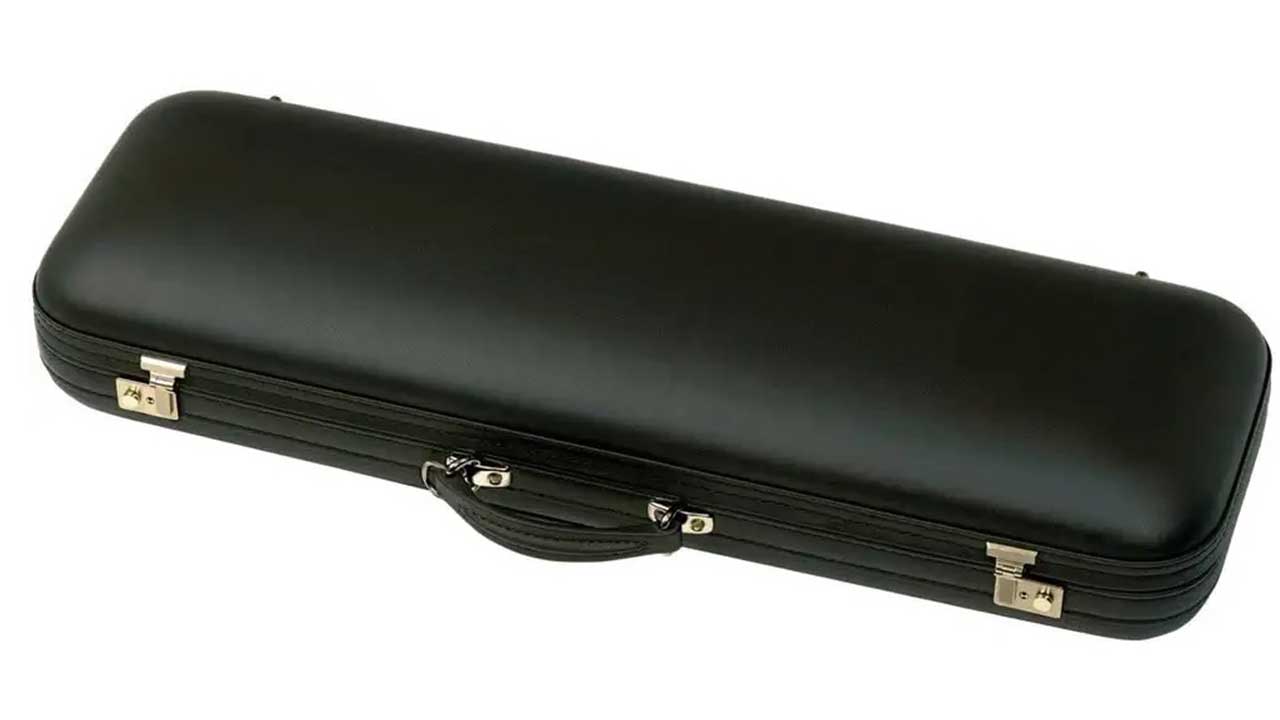 What's the best violin case? This question doesn't have a clear-cut answer. The best violin case for you is the one that fits your needs, preferences, and way of life. But if you're wondering whether Gewa Jaeger Oblong is the best violin case for you, I wrote this piece to explain why I personally think it's the best.
People believe that Gewa is a household name in the field of musical instrument protection, and I agree with that. Over the years I have been playing the violin, Gewa cases have been a common sight.
Georg Walther started Gewa in 1925. With over 95 years of expertise and invention, it is no surprise that these German-engineered cases have preserved some of the most costly violins in the world.
Thus, Gewa violin cases have grown in popularity in recent years, specifically the Gewa Jaeger Oblong Violin Case.
Table of Contents
Why I Chose The Gewa Jaeger Oblong Case
Before I decided on buying the Oblong I had to weigh up some of the reasons why I decided to invest, so here are the considerations that helped me.
I travel with my violin often – It was important to have a strong but small violin case that can handle the odd occasion or possibility of being dropped or taking knocks.
I fly a lot – I prefer to take my violin on board as hand luggage because I feel my instrument is safer that way. So, carrying the Gewa Jaeger Oblong on a plane as hand luggage and storing it in the overhead compartment without any issues is a massive plus.
I need something long-lasting – to protect my prized possession. Is Gewa Jaeger Oblong Violin Case worth the price (around $1,100 each)? Is it long-lasting?
So I'll go into why I chose the Oblong Violin Case!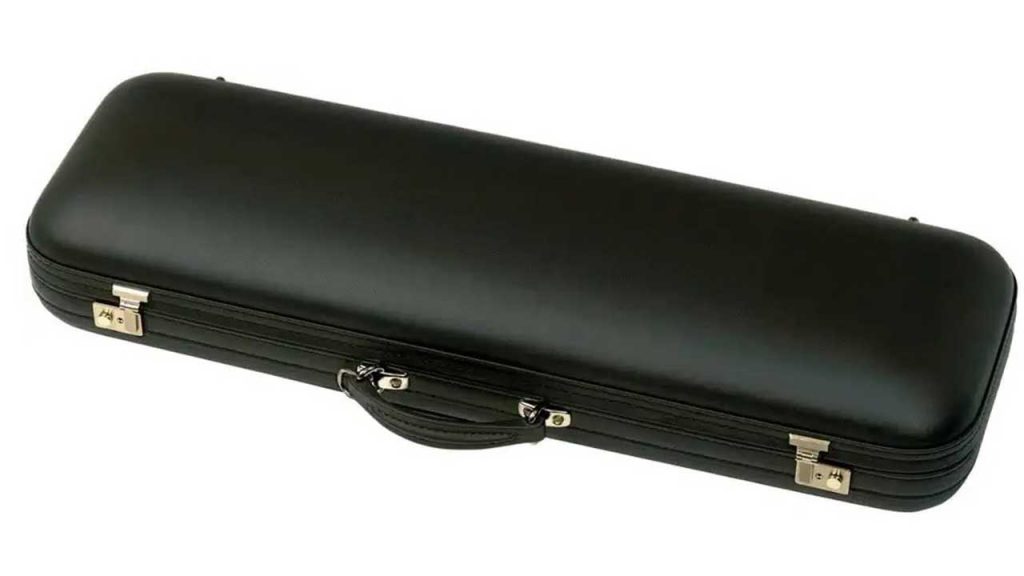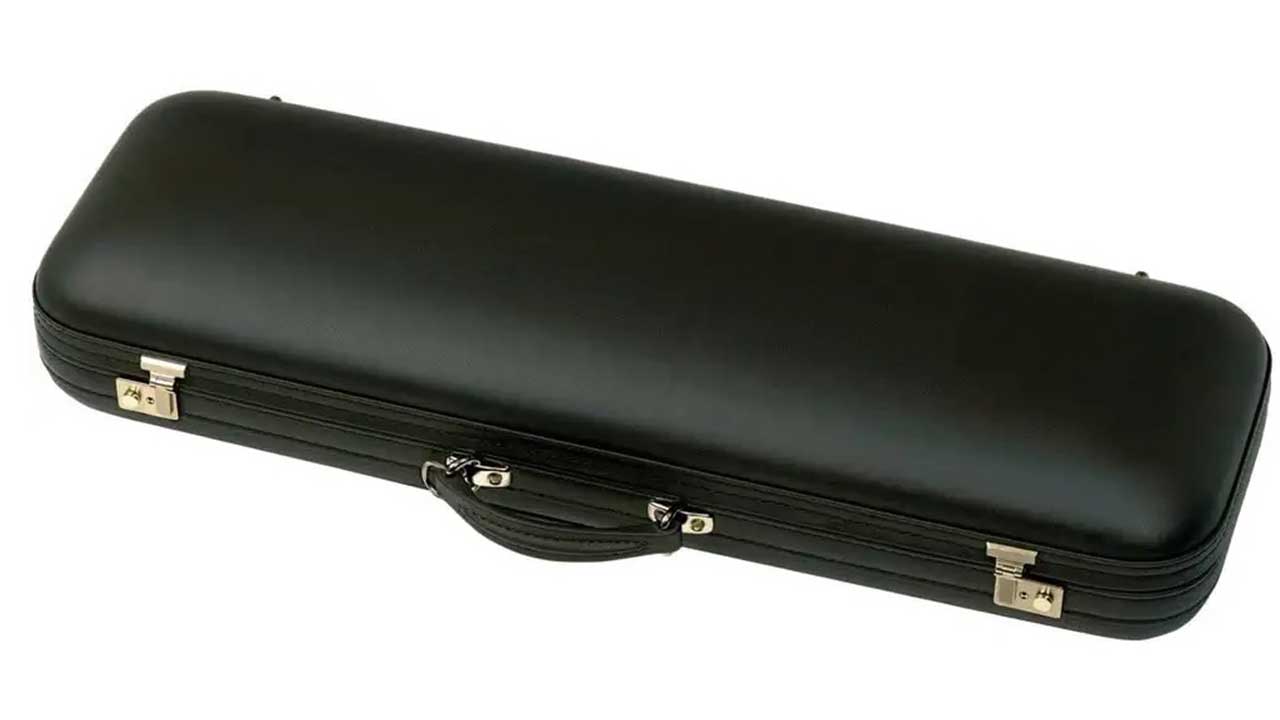 1. It's Very Easy to Carry
When choosing a violin case, weight is one of the most important things to consider because heavy cases can cause bad posture over time. I like things to be as light as possible. If you play gigs, you'll probably need a very light case. But if you only take your violin to your lesson once a week, you might be okay with one that is a little heavier.
Gewa Jaeger Oblong Violin Case weighs about 6.4 lbs, and I theoretically considered it in between to very light to a little heavier case. But since I could carry it on a plane as hand luggage without any issues, it is still an easy-to-carry violin case.
2. It's Durable
I need my violin case to be able to handle both the London weather and everyday use. Most violinists replace cases because the zipper breaks, the lock stops working, and the shell cracks.
I know what you're thinking—how do you know if a case will last? Well, I don't. but my thinking is to give myself the best chance. Gewa is a well-known brand with a very solid reputation for durability.
This brand has a good reputation when it comes to durability, having known several people who own this brand of violin case and all of them never having the same problems I had with violin cases made me realise that this brand must be a good one.
Regarding durability, a few months in and I'm in no doubt that this Jaeger Oblong case is, if not the best, one of the best I have ever had.
As opposed to fibreglass or composite cases, the exterior Mocca calf leather and the composite shell are both built to last.
They do not show signs of scrapes and/or bumps even though I've travelled with this case quite a lot over the last year. I'm very happy about this.
3. Heat-Resistant and Extremely Protective
In the search for a suitable violin case, it is crucial to ensure it will protect the violin well.
What I like about this Jaeger Oblong case is that the protective shells are thermoplastic. It has this material over carbon fiber because it can handle high temperatures.
Carbon fiber violin cases were popular for a few years because they were strong, weighed less than 5 lbs, and protected the violin well. However, one major issue with carbon fiber cases was heat conductivity. Carbon fiber can get really hot in the sun and I just didn't want that.
Because of this, GEWA chose to make this Jaeger Oblong Violin Case with thermoplastic shells. Cases made of carbon fiber get hot, but this case doesn't.
What distinguishes this case from others or the piece de resistance is that it features a blanket and leather exterior, which provide extra insulation and protection from both shock and temperature.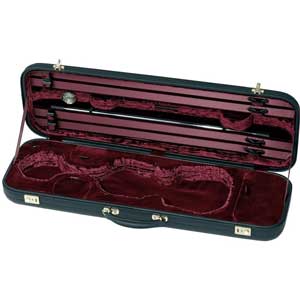 "The Gewa Jaeger violin case offers many more benefits than others, which is why it is a popular choice for student and professional violinists like myself."
This is an affiliate link.
4. It's Functional
Every musician needs a case that is light, robust, and secure.
Most violin cases are sleek and straightforward, and some companies make cases with more exciting designs, but I believe functionality is the most important. This Gewa Jaeger Oblong case has the functionality I love over other violin cases available on the market.
I know first-hand the hassle a violin case with poor functionality can give — it mostly irritates me when my time is wasted because of the complicated functionality. too many pockets, straps, zips getting in the way, handles being in the wrong place, protective straps slipping off the instrument once the case is closed.
But this violin case has a few valuable components that make your life easier. These are:
The accessory pouch is detachable. Velcro fastens these compartments to your case. As a result, you can effortlessly remove them while retaining all of your accessories in a single bag.
Most GEWA Violin Cases have combination locks (Swiss lock) with three digits. Lock your case without fear of losing the keys! Just don't forget your passcode.
For the shoulder rest, there are two velcro rings. It enables you to secure shoulder rests of any form and size.
5. It Has a Far Better Suspension System
Aside from functionality, this case has a very good better suspension system. But why do I need suspension from a violin case?
The suspension system holds your instrument in place inside the case. If you dropped your case, your violin wouldn't hit the case if it had a sound suspension system.
This Jaeger Oblong Violin Case has a GEWA swivel type holder, accessory compartments, and a flexible bow holder that supports a far better suspension system.
6. It's Stylish – It gets me compliments
I fell in love with the unique style of this GEWA Jaeger Oblong Violin Case from a visual point but once I touched it and felt the materials used and the quality of the case, I was sold.
Most oblong cases have more space inside and a sheet music pouch outside. But what I like the most about my Jaeger Oblong is it has an interior velvet plush green colour, hand-sewn leather handle, and genuine leather carrying strap that makes it more fashionable.
I've been complimented a few times too by students since buying this case and some ask me where I bought it from.
Conclusion – Is This The Best Violin Case?
When it comes to Gewa violin cases, there are a lot more options. But the Gewa Jaeger Oblong violin case offers many more benefits than others, which is why it is a popular choice for student and professional violinists like myself.
Though it is not that cheap, the quality and the benefits you'll get to me are worth the price, especially if you want a high-quality, durable, easy-to-carry, and stylish look with more modern protection.
I don't see myself needing another violin case for many years to come. I am sure that you'll fall in love with it too!