Whether you're shopping for a new fiddle student, a budding musician, or someone with a deep and abiding passion for the instrument, you'll probably come across the same questions and considerations when shopping for the fiddle player in your life. 
Fortunately, there are a ton of great, unique, and affordable gifts for the fiddle player in your life. 
Here's our list with some of the best gifts for fiddle players with suggestions of where to buy. Use it as inspiration!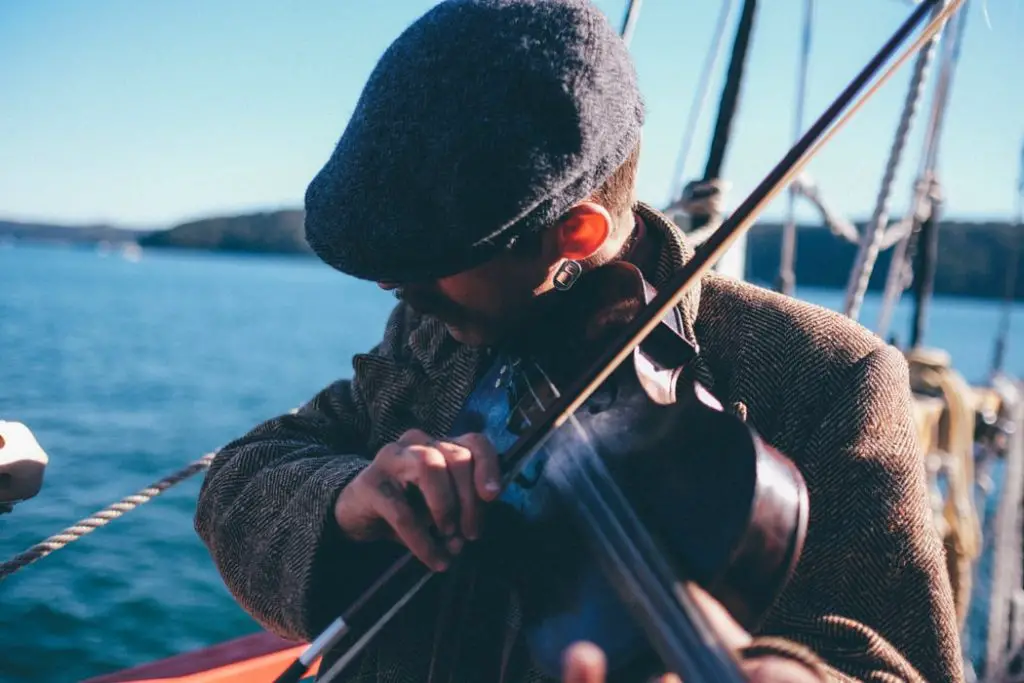 Table of Contents
1. Help Look After Their Back – Get Them A Chair
This is a good place to start with gifts for fiddle players.
Fiddle players often sit down to practice their instrument for hours on end, so it's no surprise that many of them experience lower back pain and other aches and pains from prolonged sitting. 
You can get handcrafted stools for fiddle or violin players. I recently saw one DIY stool made out of a water bottle, string, and a pencil, yes a pencil! 
Just an idea, have a browse on a site like etsy.com and see if you can find something unique!
A stool would be perfect for fiddle players who are constantly looking for ways to make their practicing space look a little brighter too.
Saddle seat, you often see dentists use these. They help fix your posture and save your back from pain. A great option for those playing or practicing fiddle for long periods of time and a worthy consideration on our list of gifts for fiddle players.
2. Fiddle String Sets
Every string instrument musician will needs some new strings from time to time, and fiddle players are no different. Whether they're looking to refresh their set or add a new set of strings to their instrument, there are a number of great options out there.
we've recommended a universal set below, so youre sure to get the right one.
3. Gifts for Fiddle Players – Fiddle Books
Fiddle books are an excellent gift for any fiddler, whether they're fiddle players who are new to the instrument or looking to improve their skills. 
Whether they're looking to learn a traditional tune or they're ready to learn a new style of fiddle music, books are an excellent way to learn more about the instrument and to improve their skills.
We love this book: The Fiddler's Fakebook
By David Brody. A great sourcebook for a traditional fiddler.
There's also: Old-Time Fiddle for the Complete Ignoramus by Wayne Erbsen. More of a fun book, but with great information, tips and of course tunes for players of the fiddle.
Well worth checking out. 
4. Fiddle Shoulder Rest / Cushions
Musicians often improvise using cloth, paper or even sometimes a water bottle as an improvised shoulder rest while practicing or during a performance.
A fiddle player in your life might benefit from an actual shoulder rest or a cushion made to make their fiddling more comfortable, especially if they have complained of discomfort of the shoulder and neck area.
We recommend this Fiddlerman Wood Shoulder Rest.
5. Fiddle Stand
Every violinist out there needs a stand to save the instrument from being layed flat or in a precarious postion, it also allows the player to show off what we can all agree is a beautiful instrument.
We love this simple but well made wooden stand. There are cheaper plastic ones available but we like the look of this one more.
This stand in particular is made from solid mahogany and of course has padding to protect the fiddle instrument from any potential light scratches.
6. Fiddle Jewelry
Musicians often wear jewelry because it's a way to express their passion for music, and it can often be a great way to give a gift to a fiddle player.
Fiddle-inspired jewelry is one of the most popular gifts for fiddle players, and we love this personalized fiddle necklace from Etsy
7. Fiddle Musical Instrument Gifts
If you want to go a little further and spend a little more, you could spend a little extra on a fiddle made by a traditional or more reputable fiddle maker if they have thus far been playing with an entry level instrument.
Conclusion
We hope that this article has provided some helpful ideas for unique and affordable gift ideas for the fiddle player in your life. Whether they're a beginner, a hobbyist, or someone with a passion for the instrument, there are plenty of great gifts out there.