Because harps are not standardized, it can become confusing for beginners to find the perfect instrument.
Knowing what to look for is essential. Unfortunately, not all harps are created equal.
Some harps are made from substandard materials. Thankfully, many models are superior and offer a better playing experience. 
With this guide, you will learn about the ten best harps for beginners.
Here, you will find detailed information that will help you determine which harp will be best for you. 
What Should You Look for in a Harp?
Multiple aspects should be considered before choosing a harp. Most people consider the purchase of a harp to be an investment, so you should take the time to learn as much as possible about the instrument. Consider the following to make the best purchase.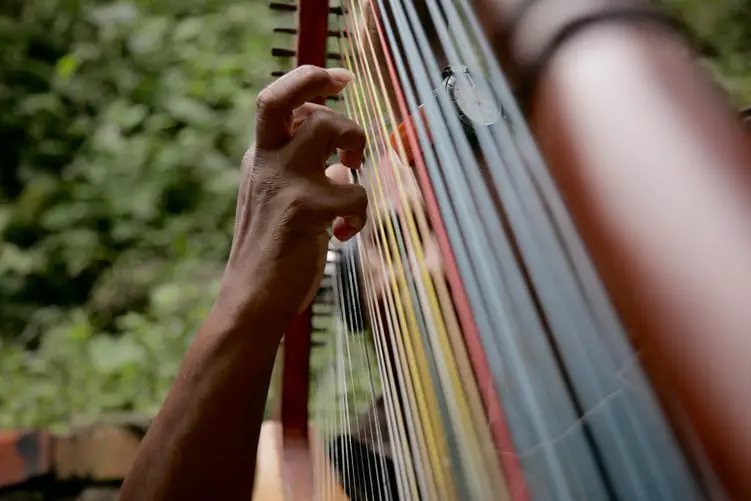 Sound
Sound is the most important aspect of purchasing a new harp. Tone, volume, clarity, and overall balance are essential. Listen to how the harp sounds as it is played. 
Size
Choosing between a lever and pedal harp is important. Deciding between the two depends on the repertoire of music you wish to play. Classical harp music relies on a pedal harp and Celtic music on lever harps. 
Durability
The harp should be made from the finest materials and by a company with a consistent track record for quality. There should be no buzzing or clicks as you push the pedals or levers. 
What to look for when purchasing a harp for beginners
10 Best Harps for Beginners
The following are the ten best harps for beginners. Any one of these would make a fine instrument for someone who is just starting to learn how to play the harp. 
1. Royal Celtic Knee Harp
This is a beautiful harp that is intricately carved. This harp is 27-inches tall and weighs 15 pounds. This harp includes strings, a tuning key, and a padded bag. The Royal Celtic knee harp is made of solid wood and hand-polished.
This harp has seventeen strings, and it is perfect for beginners and children. This harp is easy to tune, and it comes with colored strings for ease of play. 
2. Aklot 15-String Beginner's Harp Set
Most beginners want a harp that offers everything they need for getting started, and this one delivers. It comes with the 15-string harp, strings, strap, carrying bag, and tuning wrench. 
This is a lyre harp, and it comes with color-coded strings to help beginners learn to play. The mahogany body produces a warm and melodic sound. This model does not have pedals, and its dimensions are approximately 56.3 cm high and 36 cm wide. 
3. Roosebeck 22-String Heather Harp
Roosebeck is one of the most trusted names in the industry. This Chelby lever harp is a work of art, and it plays beautifully. Although it has 22-strings, it is lightweight and perfect for beginners. 
This harp comes with extra strings and a tuning tool. The frame is handcrafted of solid wood, and the dimensions are 36″ L x 9″ H x 18.5″ W. This harp weighs 13 ½ pounds. 
Learn more about the Chelby lever upgrades!
4. Harpsicle Harps Fullsicle Harp (Black)
If you are a beginning harpist, this harp will allow you to hone your skills easily. This harp is handmade in the United States, with the proper string placement. Each of the strings has a sharping lever and bridge pin. 
This instrument is 33 inches tall and is lightweight and portable. Because they are made to order, you can expect a short delay in receiving your harp. This Fullsicle harp comes with a learning DVD and a tuning wrench. 
5. Royal Harps 22-String Lever Harp
Royal Harps is another trusted maker of these beautiful instruments. This 22-string harp comes with a free storage bag, extra strings, and a tuning key. 
This harp is built with a sound box to amplify the sound. It is hand-carved and polished and made from solid wood. The harp is 36" tall and 20" wide.
6. CGI 32-String Rosewood Lever Harp
This is a 32-string harp is made of solid rosewood. It is handmade and comes with a storage bag, extra strings, and a tuning key. It includes everything a beginner would need to get started, minus the learning materials. 
The dimensions of this harp are 40″ X 27″ X 10″. This harp weighs around 18 pounds, and it offers a beautiful tone. 
7. Rees Harps Fullsicle Natural Maple Harp
This harp is made from beautiful natural maple. Its dimensions are 37 x 25 x 6.75 inches, and it weighs a mere four pounds. All the strings on this harp feature bridge pins and modified Robinson sharping levers. 
The spacing of the strings is perfect, and it offers a beautiful tone that holds well. You can sit or stand to play this harp. 
Learn about the history of Rees Harps
8. Roosebeck 12-String Baby Celtic Harp
Beginners are sometimes intimidated by the number of strings a harp can have. This 12-string offers the perfect option for harpists who are just getting started. 
This harp is approximately 21-inches high and offers Dupont Nylon strings. The strings range from F above Middle C to High C. This harp comes with an extra set of strings and a tuning key. 
Listen to its beautiful sound!
9. Sturgis 12-String Baby Celtic Harp
This is another baby Celtic harp that is ideal for beginners because of its size and number of strings. This harp weighs a little under 6 pounds, and it is made from solid wood. 
This harp comes with extra strings, a water-resistant storage bag, and a tuning key. Sturgis will offer a buyback credit should you decide to upgrade to a larger harp in the future. 
10. Smequeen 15-String Beginner Harp Set
If you are looking for a harp set that is perfect for beginners, this is a great find. This set comes with a bag, extra strings, and a tuning key. 
The dimensions of this 15-string harp are 23 x 17.7 x 9.4 inches, and it weighs just over 7 pounds. This is a hand-carved mahogany harp with three large sound holes to help amplify the sound. 
Top 10 Best Harps for Beginners – Conclusion
Finding the 10 best harps for beginners was no simple feat. 
With so many on the market, it is not always easy to decide. 
No matter which of the ten models you choose above, you are sure to find them a welcome addition to your collection. 
Learning to play the harp is relaxing and fun.