The ukulele is a whimsical and fun instrument to learn to play. It is small and compact, making it easy to transport.
One of the best things about learning to play the ukulele is its simplicity.
With just a few minutes of learning a couple of chords, you can create beautifully basic music, making this a rewarding instrument to try. 
In this guide, we will review some top ukuleles for beginners.
If you are new to playing the ukulele or simply want to learn, this is a good starting point to help you find the perfect model and brand. 
Table of Contents
What Should You Consider When Purchasing a Ukulele?
There are a few things to consider before you make an instrument purchase. Knowing what to look for makes the buying process less stressful for most people.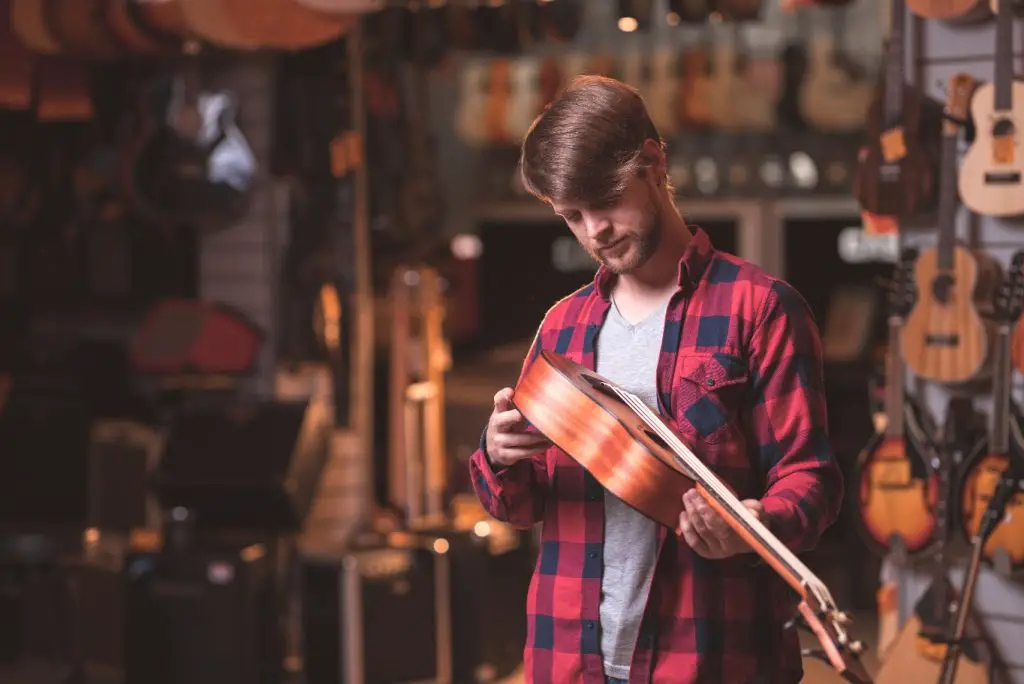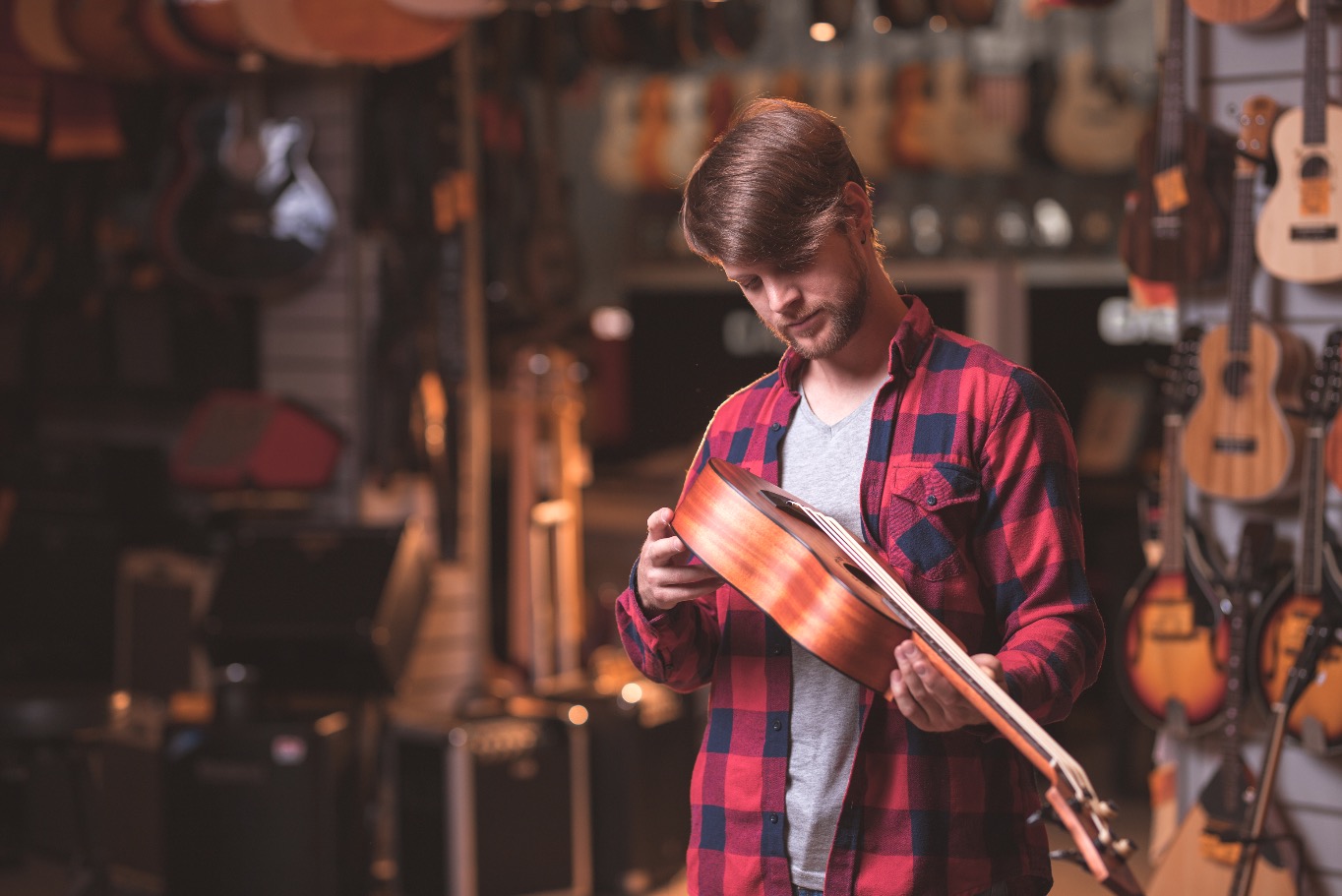 First, consider your budget. A good starting budget for beginners is $50-$100/£35.92 – £71.83. 
You should avoid very cheap ukuleles whenever possible. These are mainly marketed as toys and do not sound authentic. 
You will also need to consider the size. There are soprano, concert, and tenor sizes. Most people start with a soprano when they are a beginner because of ease of play and tone, but any of the sizes will work.  
Make sure to research carefully, to ensure you are purchasing the right brand and model to help you to learn to play the ukulele fluently. 
Top 10 Ukuleles for Beginners
You have many options for purchasing a beginner ukulele, and it can sometimes feel overwhelming deciding which one offers the best sound and ease of play.
With this review, we will give you the facts on each of our choices and why they were added to this list. You will hear the good and the bad of all, so you can make an easy decision. 
1. Kala Learn to Play Soprano Ukulele Starter Pack
Kala is one of the top-rated ukulele manufacturers in the world. Although they also make guitars, their primary focus is the creation of beautiful ukulele instruments, for people of all skill levels and experience. 
This starter kit has everything a beginner would need for getting started playing the uke. The kit comes with the following. 
Kala soprano ukulele
Tuning app
Kala tote bag
Quick start guide
Online lessons
This model is made of mahogany, and its dimensions are 3.25 x 8.38 x 22.63 inches. The strings are Nylon, and there are four of them. This is a lightweight instrument, weighing in at only one pound. 
Pros
Made of high-quality mahogany that is very durable.
The kit includes everything you need to get started
It is highly affordable for beginners who may not want to invest too much money
This kit is offered in soprano, concert, and tenor sizes
Cons
This kit does not include a clip-on tuner, but you can purchase one separately for a low price.
Watch This Video for More Info
2. Cordoba Concert Ukulele
Those who have larger hands or fingers may find this model a little easier to fret because it is a larger size. You can also purchase this model in soprano and tenor sizes. 
This Cordoba ukulele is made of mahogany, and its dimensions are 24 x 6.5 x 10 inches. With the pearl button tuners, you can easily tune your instrument. This is an ideal instrument for beginners and experienced players alike. 
The Cordoba concert uke does not come with any accessories, so you will need to purchase them separately. You can start playing this instrument without any accessories, but they always add to the fun. 
Pros
This brand is available in all three sizes, including soprano.
This model is ideal for people of all skill levels, including intermediate players.
You can purchase an electric version if interested.
This model offers a great sound for the price.
Cons
3. Kala Mahogany Concert Ukulele
This Kala concert ukulele is the perfect size for some beginners, especially those who are transitioning from other stringed instruments that may offer larger fretboards. 
If you are certain you will play the ukulele for the long haul, this is an ideal model to get started with because it is for players of all experience levels and transitions nicely from beginner to intermediate. 
This ukulele is blue and made of mahogany. The dimensions are 25.2 x 25.59 x 9.84 inches. It is also very lightweight, weighing in at only 0.5 Kilograms. 
Pros
Beautiful blue satin finish
High-quality construction
Deep and rich sound
Holds the intonation well
Cons
More expensive than some other brands
4. Cordoba 15CM Ukulele
If you are looking for a concert-sized ukulele, you cannot go wrong with this Cordoba. This model is ideal for beginners and those taking lessons. This instrument offers a vibrant sound due to its mahogany construction. With its sleek satin finish and pearl button tuners, this ukulele is a beauty. 
As mentioned, the front, back, and sides are all made of mahogany. The dimensions of this instrument are 24 x 6.5 x 10 inches. This is the perfect size for ease of play, for those of all skill levels. 
Pros
Beautiful satin finish
Durable nylon strings
Sturdy intonation
Rich and vibrant sound
Cons
Contains some composite wood
5. Kala KA-15S Soprano
Here, yet again, is another Kala model. As with all of Kala's ukuleles, this is a quality instrument at an affordable price. It offers a traditional ukulele style, with mahogany front, sides, and back. The satin finish is beautiful. 
This instrument features a walnut fingerboard and bridge, with a mahogany neck. It offers Aquila Super Nylgut strings and a shark tooth rosette. The dimensions of this ukulele are 21.06 x 7 x 2.37 inches. It is the perfect size for beginners and children. 
Pros
Offers a beautifully rich sound
Affordable price for beginners
Perfect size for beginners and children
Beautiful satin finish and rosette design
Cons
The tuning app requires Internet service
6. Bondi Concert Ukulele Starter Kit
When just starting out playing the ukulele, it helps to purchase a kit like this Bondi concert ukulele starter kit. It is packed with everything a beginner would need, for beginning to master this instrument. It is also available in many options, with different styles of carrying cases. 
This kit includes:
Mahogany concert ukulele
Felt picks
Tuner
Compression sponge case
Leather strap
Chord stamp
Aquila strings
Live lessons
Pros
Includes everything a beginner needs for getting started
Is available in different designs
Offers affordability for beginners
Comes with a 20-year warranty
Cons
The chord chart is not as helpful as it could be, but there are plenty of online options
7. Luna Tattoo Concert Ukulele
Luna is another trusted ukulele maker. Although they offer a range of instruments, there is a reason they are tops in ukulele manufacturing. They offer quality ukulele instruments, at affordable prices. 
This instrument is made of mahogany and has a unique tattoo design. The dimensions are 24 x 9 x 3 inches, and the strings are made of bronze. This ukulele has a satin finish and comes with a gig bag. 
Pros
Offers all-wood construction
Unique tattoo design
Beautifully clear sound with resonation
Is offered in an electric model as well
Cons
8. Donner DUC-1 Concert Ukulele Starter Bundle
This is another great ukulele kit that is perfect for beginners. This is a classically-designed concert size ukulele that is made of African mahogany. This starter bundle comes with the following. 
Concert ukulele
Gig bag
Strap
Picks
Cleaning cloth
Clip-on tuner
Free online lessons
This ukulele is ideal for beginners who are just getting started because it includes everything you need. The dimensions of this ukulele are 4.53 x 26.77 x 10.43 inches. 
Pros
Available in three sizes
Highly affordable
Offers a pleasantly rich sound
Comes with fret position marks
Cons
Not the best choice for children
9. Cordoba 20CM Ukulele
This is another Cordoba model that offers a little bigger size. It is perfect for beginners, but intermediate musicians will also find it to be a solid instrument. 
Cordoba makes all their instruments in China, and there are some composite wood parts, but overall, this instrument is solid in design and construction. 
The dimensions of this ukulele are 24 x 8.25 x 3.5 inches, and it has a natural satin finish. With a rich sound, it is easy to play. 
Pros
Offers a solid mahogany top in a satin finish
Comes with Aquila Nylgut Concert strings
Offers a rosewood bridge and fingerboard
Offers many options, including electric
Cons
More expensive than other beginner models
10. Lohanu Concert Ukulele Bundle Starter Kit
For many beginners, purchasing a bundle starter kit just makes sense. This Lohanu kit comes with everything you need to get started playing right away. It features the following. 
Ukulele instrument
Gig bag
Strap
Tuner 
Picks
Strings
Free video lessons
This ukulele is made of Sapele. The frets on this instrument are more widely spaced, which is ideal for those who are just beginning to learn.
The dimensions of this ukulele are 24.5 x 8.25 x 2.75 inches.
Pros
It is ideal for beginners, with everything necessary for playing
Comes in all three sizes
Extremely affordable
Large enough for intermediate players
Cons
Some people report having trouble getting this instrument to stay in tune.
The Top 10 Ukuleles for Beginners – Conclusion
As you can see, there are so many choices for beginners who want to learn how to play the ukulele. Feel free to click through each of the links and find the perfect instrument to unlock your playing pleasure.