Although the ukulele is one of the easiest stringed instruments to learn, some people find it difficult to progress past the first strumming exercises. 
If you feel stuck, you are more likely to give up on playing this whimsical instrument. 
Learning to play the ukulele is meant to be a fun experience. 
When you find yourself getting bored and learning becomes a chore, it is time to reevaluate your objectives and learn some tips to make play easier. 
With this guide, you will learn some insider tips from ukulele experts. 
These tips will help you to get over the roadblocks and find it easier to progress in playing the ukulele, no matter your experience level. 
Is It Easy to Learn the Ukulele for Beginners?
The ukulele is much easier to play than guitars or mandolins, which is why many believe this instrument to be ideal for beginners. 
Consider the following to better understand why the ukulele is such a good instrument for beginners of all ages. 
Comfort
The soft nylon strings are much more comfortable on your fingers. 
You will likely find this instrument does not cause major blisters and calluses like guitars. 
Size
The much smaller size of the ukulele is also one of the reasons it is so good for beginners. 
Because of its small neck, you will find there is no major stretching to reach chords and no strain on your wrists. 
Affordability
Ukuleles are very affordable for beginners, which is why so many people start off learning to play this stringed instrument. 
Many beginners do not want to pay a lot of money for an instrument they may not end up enjoying playing. 
Portability
Many beginners like the fact that ukuleles are so portable. 
They can carry them practically everywhere they go, for ease in practice. 
Their lightweight appeal makes ukuleles a favorite instrument for many. 
Easy
With a small amount of practice, beginners can start to play beautiful melodies in a short amount of time. 
The ukulele is a very forgiving instrument, and its melodic sounds put a smile on the faces of everyone. 
The ukulele is one of the best stringed instruments for beginners because of its size, comfort level, and ease of playing. 
Learning a couple of chords allows beginners to start to progress nicely with this instrument.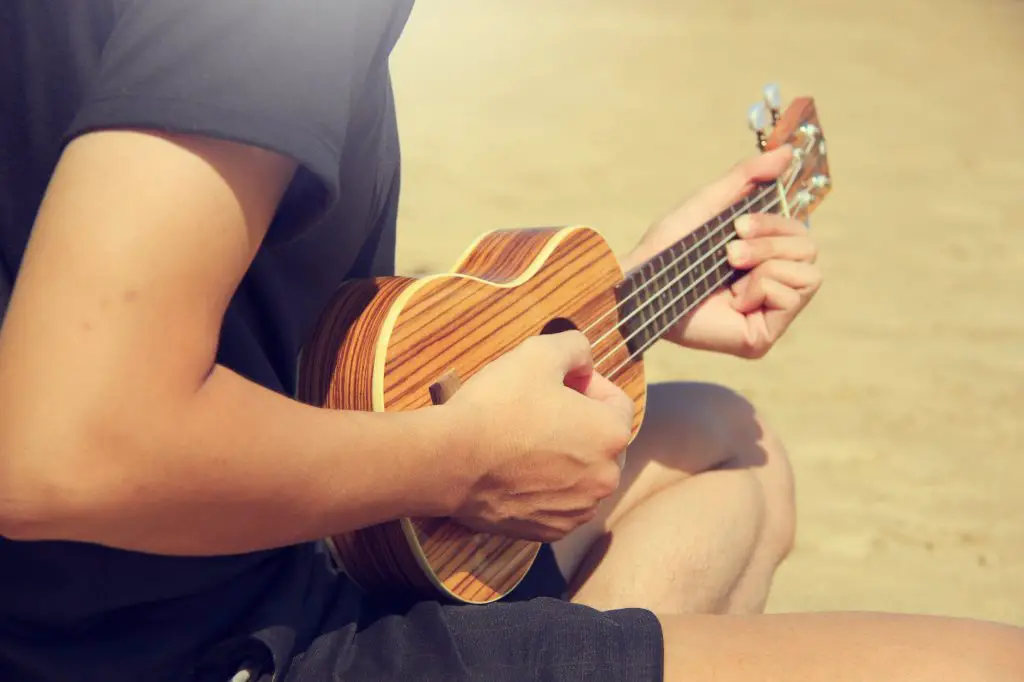 How Long Does It Take to Self-Teach the Ukulele?
Most people who start playing an instrument want to learn as much as possible, as quickly as possible. 
Because the ukulele is such an easy instrument, many beginners learn at home, using various resources. 
Although lessons from a professional are almost always beneficial, those who are insistent on persevering will likely find teaching themselves is not overly difficult. 
Dedication to Practice
Like with all forms of learning an instrument, dedication to practice is of extreme importance. 
You cannot expect to learn to play the ukulele without being dedicated to learning. 
The length of time it will take for someone to self-teach to learn to play the ukulele will depend on the level of skill they want to obtain.
If a person simply wants to learn a few easy songs to play for friends and family, they can expect to reach their goals within a few weeks or a couple of months. 
Use the Right Resources
Depending on their resources and dedication, most people become proficient at playing the ukulele within six months. 
The more seriously you take practice sessions, the faster you will learn. 
Strumming
Learning the proper formation and strumming pattern are the most important aspects of learning to play the ukulele. 
Learning these is integral from the very beginning. 
Maintaining proper form and strumming rhythmically will help you to learn to become fluent with the ukulele much faster. 
This takes practice but can be mastered fairly quickly. 
Are There Any Free Resources for Learning the Ukulele?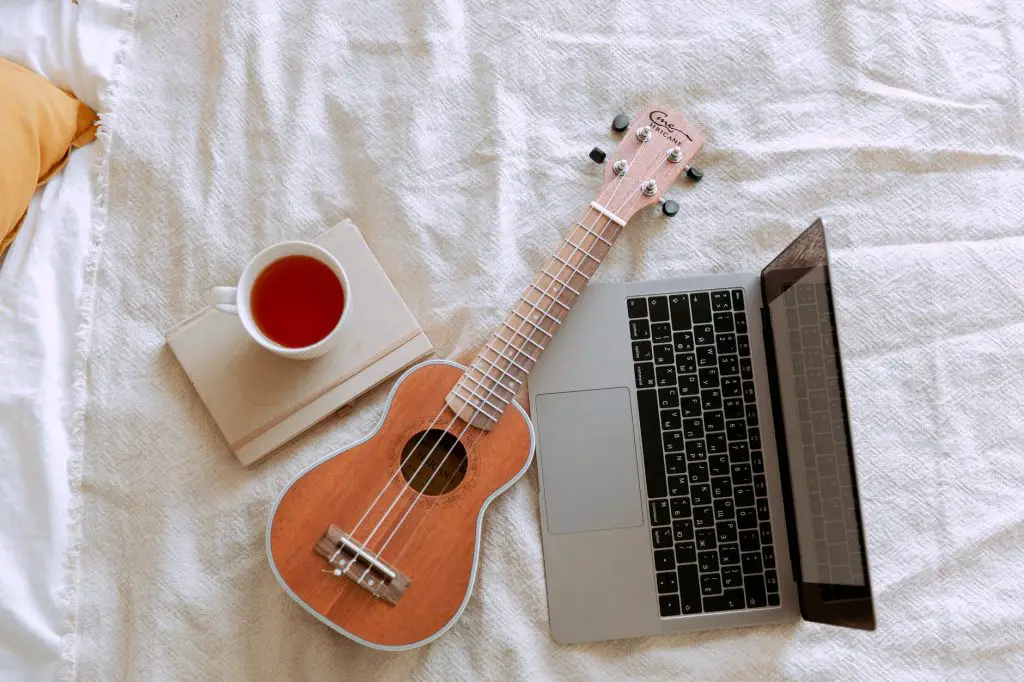 Learning to play the ukulele should not cause a lot of stress for beginners, especially if they have access to the best resources. 
While some resources require payment, many are free. 
No matter which resources a beginner uses, they need to offer sound guidance and be simple to follow. 
Although working with a teacher is undoubtedly one of the best options, not everyone has the time or money to seek an in-person instructor. 
If you are wanting to learn how to play the ukulele, consider these free resources that will help you reach your goals much faster. 
The 30-Day Ukulele Challenge is brought to you by Bernadette Teaches Music. 
You will find her YouTube lessons start with the very basics, including how to set up your uke zone. 
Each lesson progresses nicely, allowing beginners to learn to master this fun instrument. 
10 Day Starter Course for Ukulele
This is not a complete training class, but it gets you started on learning how to play the uke successfully. 
These lessons are brought to you by Andy Guitar. You will find the 10-day starter course to be perfect for beginners. 
This site is brought to you by Ranch Guitar. 
It includes twelve free lessons that get you started tuning and help you progress to playing a song. 
The lessons are straightforward and progress nicely. 
This website offers many links that provide beginners with information. 
Here, beginners can learn how to tune their ukes and how to play songs, along with many other instructional articles and videos. 
You must be careful to ensure you check each resource you plan on using, for accuracy and ease of use. 
The above resources have all been ranked highly by many beginner ukers, so click through them and see which ones speak to your inner musician. 
Top 7 Ukulele Tips for Beginners
If you are a beginner to the uke, you may be feeling a little overwhelmed and unsure of how to get started. 
Thankfully, the ukulele is a very forgiving instrument. 
The following offers some tips for beginners that can help you begin to better understand this amazing instrument and how to create beautiful music. 
1. Always tune your ukulele before playing. 
While this may seem like an obvious tip, many players forget to tune their instruments, which can lead to problems, especially if you are new to playing. 
If you are learning chords while your instrument is not tuned properly, you are wasting your time. 
Make it a habit to tune your instrument each time you get it out to practice. 
2. Hold your ukulele properly. 
As briefly mentioned above, the form you use is integral for getting the right sound from a ukulele. 
Holding your ukulele awkwardly will lead to discomfort. 
If you are sitting while playing, make sure to sit upright, with good posture. 
Support the instrument right below your chest. Your forearm should hold the body of the instrument. 
Your other hand offers support and frets the chords. 
3. Learn the most common chords. 
While there are others, learning the top five chords will allow you to play many songs as a beginner ukulele player. 
The following are the chords you should focus on learning first. 
G Chord
C Chord
F Chord
D Chord
A Chord
Learning these chords takes practice. 
Once you learn these five, you can play almost all songs for the ukulele. 
4. Muscle memory is important.
Some people do not realize there is science behind learning to play any instrument, including the ukulele. 
Developing muscle memory can train you to play more easily. 
Practice chord progression and then take breaks often. 
Repeat the process, and each time, you will find you get faster at playing chord combinations. 
The process will start to feel effortless after a while. 
5. Perfect precision using a metronome. 
Timing is everything when it comes to learning to play any instrument. 
Using a metronome will help you to keep a perfect rhythm while learning to play the ukulele. 
Set your metronome to tick at a slow and steady beat. To learn to play the ukulele quickly, you will want to learn to play slower. 
Learning to play slower will help you to stay on track and begin to progress rapidly.
6. Hum while you play the uke.
You may think this sounds silly, but it can actually train your brain to learn to play faster. 
If you hum the song while learning to play, you will find you grow accustomed to using your voice while playing, which will allow you to play more proficiently. 
7. Progress to singing while you play. 
The more ways you engage your brain while learning to play the ukulele, the faster you will become proficient at this instrument. 
Use a basic down-strumming technique that is slow and steady, while singing the words of the song you are learning. 
Conclusion – How To Learn The Ukulele Fast
Do not fear playing the ukulele. It is not as difficult as you might believe, though it does require faithful practice. 
With the tips and resources you have learned about, you will now be empowered to get started. It will not take long before you create beautiful music.