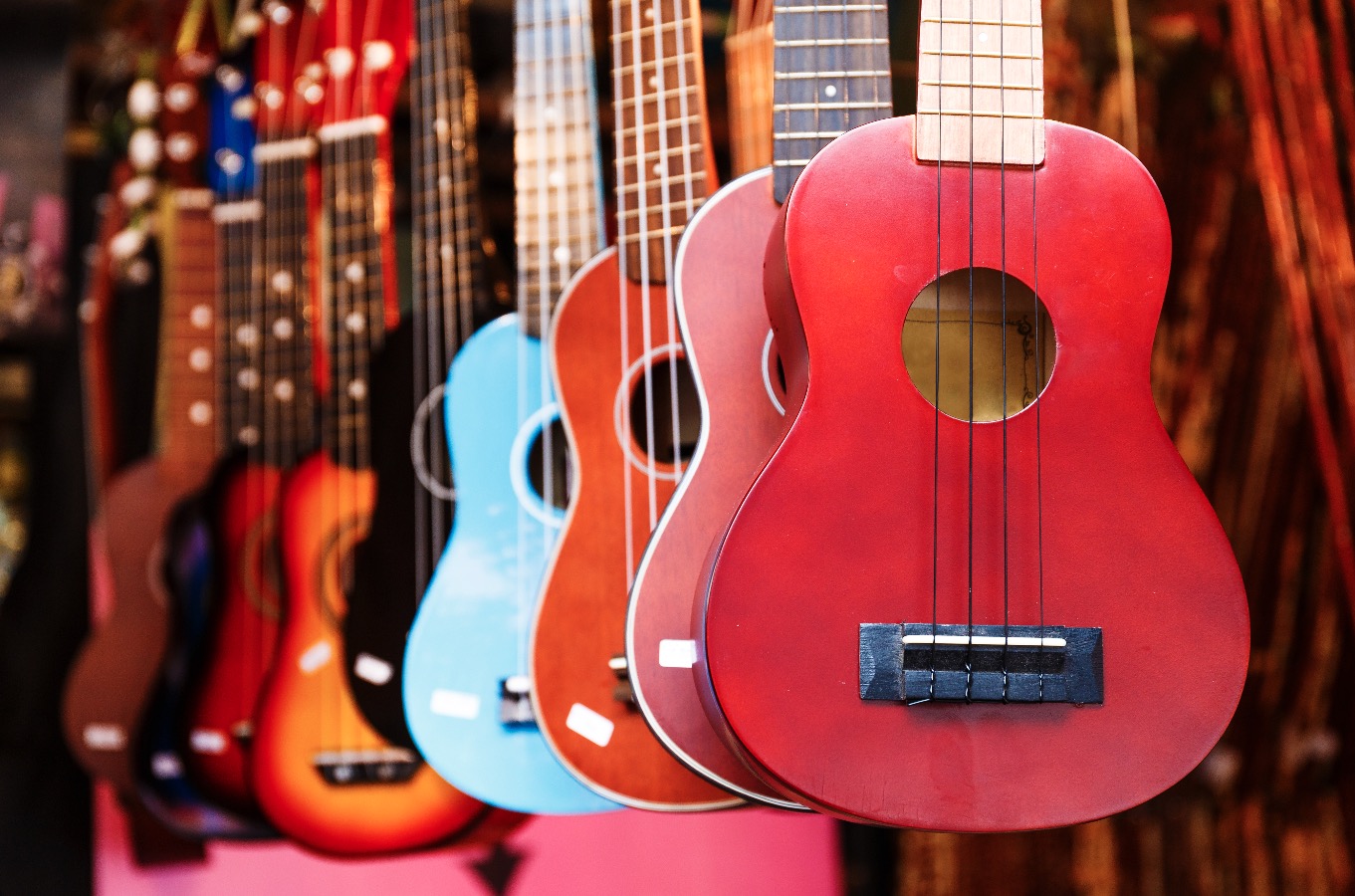 Table of Contents
What are the Best Ukulele Brands?
There are many ukulele brands on the market, but not all of them offer the same standards in construction, durability, and sound.
With so many brands available, it can sometimes be confusing finding the one that will offer the best for your money. So, what should you look for in a brand, and what are the best ukulele brands?
Check for brands that have been around for many years. Read reviews and learn about the company. 
Avoid overly cheap ukulele brands. Remember, you get what you pay for in most cases. These ukuleles very rarely hold up for long. 
Learn about the materials and craftsmanship, and purchase the best you can afford. 
Top 10 Ukulele Brands
You undoubtedly have a plethora of choices on the market, but some brands have stood the test of time and continue to rank high on the list.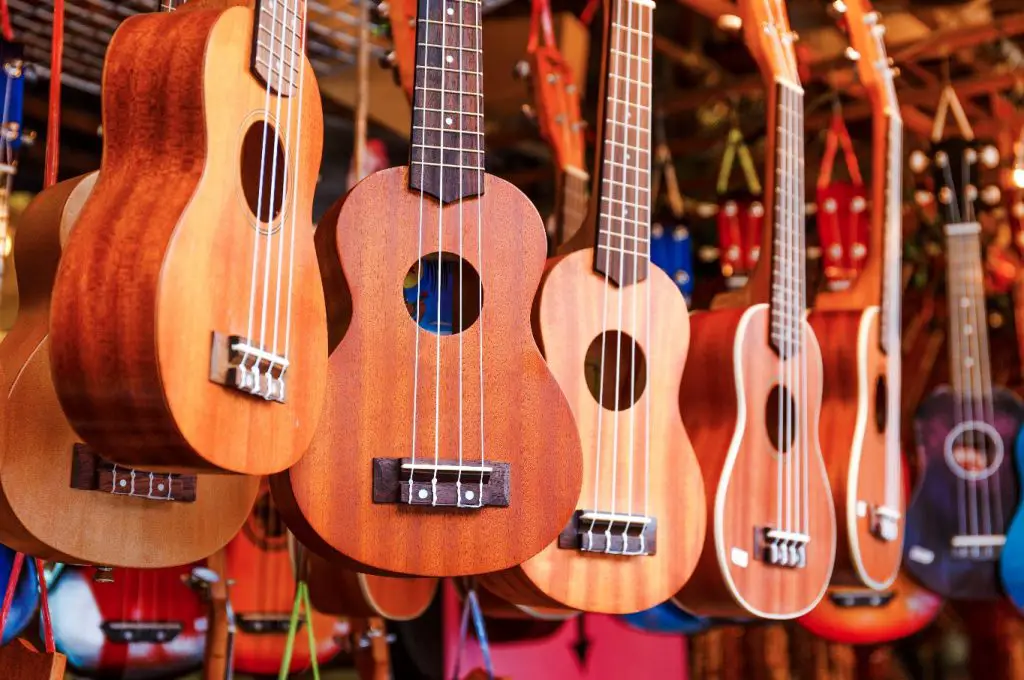 The following offers information on the top brands, to help new ukulele players find the instrument that will best meet their needs and budget. 
1. KALA BRAND MUSIC CO
Kala is one of the newer kids on the block, but they have quickly risen to elite status among ukers. They offer a range of ukuleles, from beginners to pros. Their elite ukulele line is all handmade at their factory in Petaluma, California. 
Kala is a company that focuses on delivering a high level of craftsmanship and a rich and beautiful sound. If you are on a budget, you can find a nice Kala ukulele for around $250/£180.61. 
Their starter kits are ideal for beginners because they include everything you need to start playing. From traditional woods to exotics, Kala makes some of the most beautiful ukuleles in the world. 
2. Mahalo
It is without a doubt that Mahalo played a big role in the ukulele revival that has swept the world. The Mahalo line of ukuleles rose from a Japanese company called Kikutani Music. 
They began producing ukuleles in 1999, with a focus on delivering beautiful instruments, at an entry-level price. Before their entrance into the market, ukuleles were primarily marketed as toys and practically unplayable. 
Although they started with a small line, Mahalo has expanded greatly and is now being sold in music stores all over the world. This is a company that only produces ukuleles, so they have had many years to hone their design and manufacturing processes, to create ukuleles that look and play like works of art. 
Their Learn to Play Packs allow beginners to pick up an instrument and obtain all they need, to get started for about $50/£36.12. Although they are very budget-friendly, they continue to offer good quality instruments. 
3. Lanikai
When Lanikai first started out making ukuleles, they were made in China and considered lower-level instruments, meant only for beginners. Over the years, they have advanced their designs and manufacturing processes, producing ukuleles that have become respectable all over the world. 
Lanikai produces budget-friendly ukulele models that are ideal for beginners. They produce soprano, bass, concert, tenor, and baritone models, along with 5, 6, and 8-string ukuleles. 
Famous musicians, such as Zach Condon from Beirut, play the LU-21T model, which costs around $100/£72.24. They offer a range of series, including Julia Michaels Signature. 
4. Fender
Fender is an American icon that was established in Southern California in 1946. Although they are best known for their guitars, they also make a full line of beautiful ukulele instruments. 
Fender is a company that focuses more on established musicians, with a higher price range than companies like Mahalo. You can purchase a Fender uke for around $199/£143.77.
Fender offers a range of materials and styles to appeal to just about any uker. The sound that emanates from their ukuleles is phenomenal. 
Their Grace VanderWaal Signature collection is a popular choice, as are their ukes that look like their iconic Stratocasters. 
5. Cordoba
Cordoba is a company that has been around since 1997. Located in Santa Monica, CA, they are a ukulele brand that focuses on producing beautiful instruments, made in traditional Spanish style. 
Their designer and master builder, Edmund Blöchinger, is best known for implementing the design aspects of the 19th century Spanish luthiers into Cordoba guitars. Later on, Cordoba hired Pepe Romero Jr. to begin creating their amazing ukulele line. 
Beginners can find a Cordoba ukulele for less than $100/£72.24. They also offer higher-end models that are marketed to more experienced musicians. 
Cordoba is known for its lightweight and beautiful instruments. Their ukuleles have a rich sound that plays true for musicians of all levels and backgrounds. 
6. Oscar Schmidt
Oscar Schmidt is an instrument company that has been around since 1871. They produce a wide array of instruments, including a line of ukuleles. 
Oscar Schmidt offers beginner level ukuleles for around $50/ £36.12 to higher-end models that can run over $300/ £216.73. 
This company has a solid reputation for quality, at an affordable price. These ukuleles are considered easier to play than some other models, and the intonation is very good for the price. 
If you are a beginner uker, this is a perfect company to check out. They offer an instrument for everyone. 
7. Donner
Donner is a solid ukulele company that has been around since 2012. Although they are one of the youngest ukulele companies on the market, they have undoubtedly gained the respect of many musicians, for offering budget instruments that are made with exacting detail. 
These ukuleles are made with simple, no-frills designs, but they have a tight construction and a surprisingly loud and rich tone. Donner creates lightweight ukes that are easy to play. 
You can pick up a Donner ukulele for around $60/ £43.35. The major drawback to these ukes is the fluorocarbon strings, which you may want to switch out. 
8. Martin
Since 1833, Martin has been making guitars. In 1907, they began making ukuleles, but their first models were not very successful because they were making them too similar to guitars. In 1913, they gave it another try, with success. 
Martin makes some of the highest quality ukuleles in the industry. Unfortunately, they are on the pricey side. You can pay anywhere from $300/ £216.73 and up to $2,399.00/ £1,733.13 or even more.
Martin ukuleles are played by some of the biggest musicians in the industry, and they have a name that stands for high quality and amazing sound. This company has a ukulele for every level of expertise. 
9. Luna
Luna Guitars is a fairly new company, getting started in 2005. They started out being known for their guitars that have unique looks and sounds, but they soon began creating some of the best ukuleles on the market. 
As they grew their ukulele line, the company began receiving an unprecedented following. Today, Luna ukuleles are played by big musician names and are found in many school music programs across the world. 
These instruments are as beautiful as they sound, and they often become collector's items. Prices range from $199/ £143.77 to $400/ £288.98 or more. 
10. Kamaka
Last, but certainly not least, we have Kamaka. This Hawaiian-based ukulele company is family-owned and has been in operation since 1916. They are one of the "Four K's" which include some of the biggest names in the ukulele industry, producing amazing ukuleles from the state of Hawaii. 
All of their models of ukuleles are made of Hawaiian koa wood, and each of their instruments comes with a custom Kamaka case. This company creates some of the finest ukuleles on the planet, and they are one of the most respected names in the industry. 
Kamaka's most popular model is the STANDARD (HF-1), which retails for over $1000/ £722.44. While Kamaka may not be affordable for most ukulele beginners, it is undoubtedly a brand you will want to keep in mind if you plan on sticking with the ukulele. 
The Best Ukulele Brands for 2021 – Conclusion
It is difficult to pinpoint the best ukulele brands for 2021 because there are so many amazing makers out there. While some are better brands for beginners than others, you cannot go wrong with any of the above. 
No matter the brand, playing the instrument, before you buy, is always best. Each instrument has its own depth and ring, and discovering the ukulele you truly enjoy playing will take a hands-on approach. 
With the above brands, the ukulele has soared in popularity again. It is an easy instrument to pick up and start enjoying right away. With practice and the right brand, you can become an accomplished musician who creates beautiful ukulele music.