The accordion is one of the coolest instruments on the planet. This free-reed bellows-driven instrument is fun to listen to and play.
Often connected to folk music, this instrument features a small keyboard or a series of buttons, along with bellows. The player expands and compresses the bellows to produce beautiful music. 
Choosing the right accordion can make all the difference in overcoming any challenges you might face while learning. That's why our carefully curated list of the Best Accordions for Beginners is designed to provide you with options that cater to your needs, making the learning process more manageable and fun.
We'll not only present you with our top 5 Best Accordions for Beginners we'll address the question "Is the accordion hard to learn?", ensuring a smooth and enjoyable start to your musical adventure.
BTW: Be sure to check out our Top 3 Picks of Accordion Sheet Music Books for Beginners. Click here.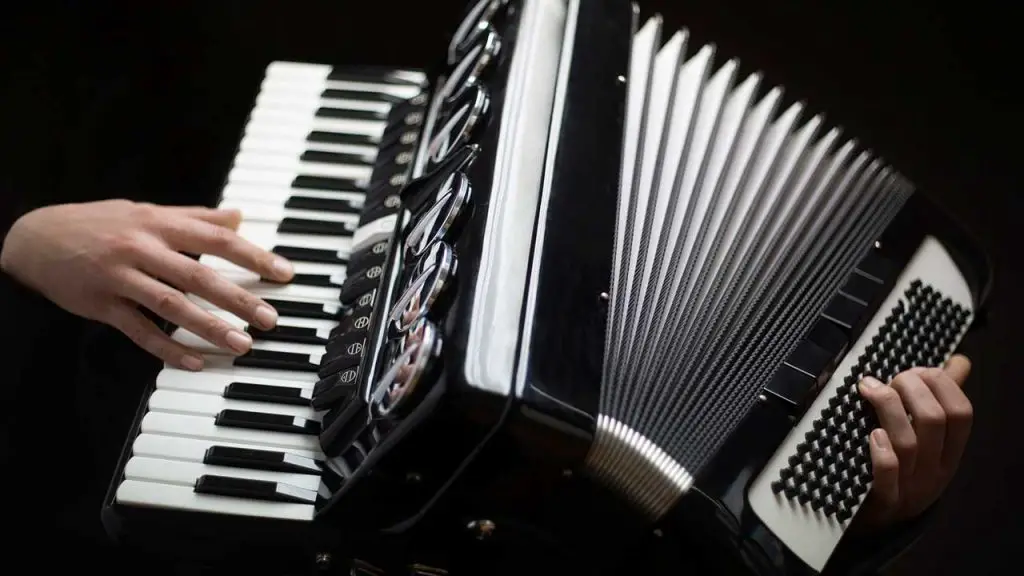 There are a few different types of accordions, the Piano, Chromatic, Concertina, and the Diatonic. Each of these offers different sounds and slightly different methods of play.
The choice you make will depend on the type of music you want to play and your skill level.
For ease, many accordion beginners start playing on the Concertina, though it is a bit limited in playing style. All of the above are good choices, depending on your needs as an accordion beginner. 
With this guide, I plan on giving you all the information you need for choosing the best accordion for beginners. Once you have your new accordion in hand, the fun of playing this whimsical instrument will have you hooked from the beginning!
Table of Contents
Our Top 5 – Best Accordion for Beginners List (UPDATED 2023)
The Breakdown – Our Top 5 Best Accordion for Beginners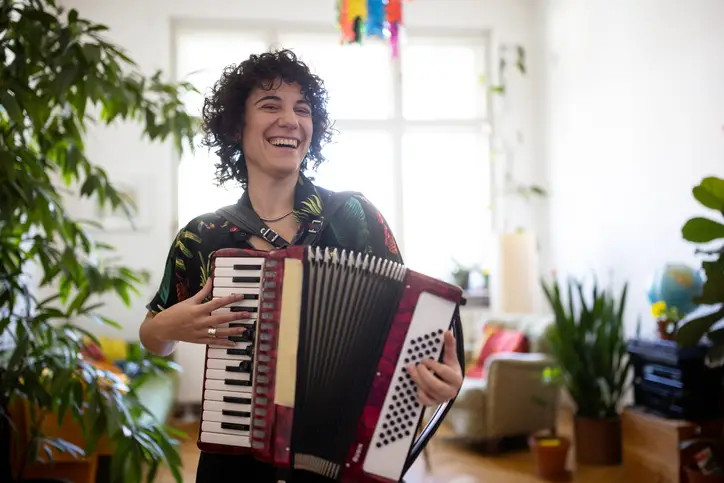 I've played a lot of accordions over the years, and I know what makes an instrument a good one and why some should be avoided. I have put together this list of suggestions for best accordion for beginners. 
I hope this information will give you a good idea of what to look for and help you choose the best accordion for beginners. I will give you the good and the bad information on all five in my list so you can make an informed purchase. 
1. Hohner Compadre GCF COGO Accordion Bundle
This is the perfect accordion bundle for beginners because it comes with everything you could need to get started playing. This Hohner Compadre is a button-style accordion that is much easier to play if you don't have previous piano experience.
This accordion bundle comes with a bag, strap, mini harmonica, polishing cloth, and key stickers. This Hohner Compadre features 31 treble buttons and 12 bass buttons. The Hohner Compadre GCF is a Diatonic accordion. 
Although I recommend this highly for beginners, it is perfect for intermediate players as well. This is the ideal accordion if you like playing Americana, Rock, Norteño, Vallenato, and Tejana style of music. This two-reed accordion has what I like to call a "dry" sound that lends itself beautifully to these musical styles.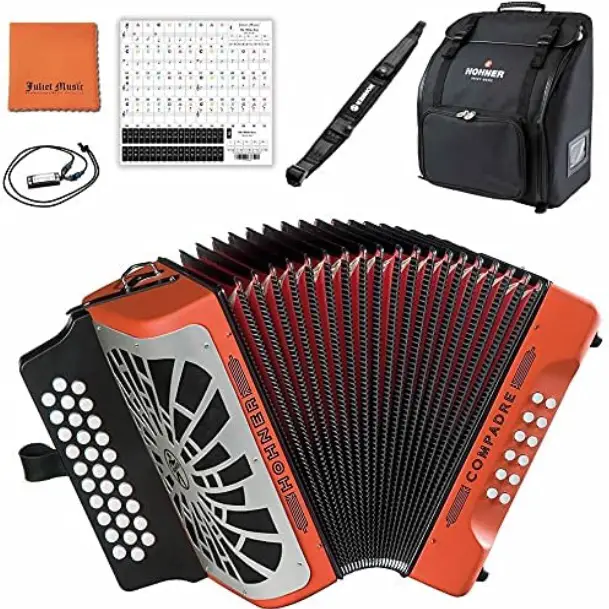 ✔ Best for a beginner – Everything needed to get started playing.
Pros:
This Hohner Compadre GCF COGO accordion bundle comes with everything a beginner would need to get started playing. 
This accordion features buttons that are easy to play, and the bundle comes with key stickers to help you remember your finger positions when learning notes. 
Hohner has produced a new grill design for this Compadre GCF COGO accordion, and it produces an amazing sound that is loud and rings out beautifully. 
Cons:
The open grill design is not for everyone. Some do not like the loudness, but many find it ideal. You will have to be the judge. 
2. Hohner Accordions BR48R-N 26-Key Piano Accordion
We consider this one one of the best accordion for beginners but also for intermediates too. If you have previous piano experience, this Hohner BR48R-N Piano accordion will be easy to play.
This accordion features 2 treble registers and 48 bass buttons. You will find this bundle comes with a textile strap and a gig bag for easy transport. 
The range of this instrument is B-C, and it weighs in at around 15 pounds, which is on the lighter side for a Piano keyboard. The keyboard length is 12.75 inches, which is just wide enough to play without stretching your fingers too much. 
✔ "This accordion is German-engineered, and it sounds amazing." 
Pros:
This accordion is German-engineered, and it sounds amazing. 
The Hohner BR48R-N is the perfect weight for beginners. It only weighs around 15 pounds so your arms will not be strained. 
This 48-button model is ideal for those who are just learning. It is not as intimidating as the massive 120 base button models. 
Cons:
This model does not allow you to change the octave of the keyboard like some more expensive models, but you likely will not need this feature as a beginner or even an intermediate. 
3. Hohner Accordions 1303-RED 12 Bass Entry Level Piano Accordion
Beginner accordion players cannot go wrong with this Hohner 1303 12 Bass piano accordion. The range of this accordion is G-G. This set comes with the piano accordion, strap, and a gig bag. 
This Hohner accordion is more lightweight than many of the piano models, weighing in at only 12.5 pounds. This accordion offers Tremolo tuning and is a Diatonic model. 
This accordion model features 12 bass buttons, making it perfect for those who are just starting. The piano keyboard features 26 keys and offers a tactile key response. 
With its full and vibrant sound, many beginners find this accordion plays better than their expectations. The price is highly affordable for those who do not want to spend thousands of dollars to get good sound. This is why we consider it a worthy inclusion in our best accordion for beginners list. 
✔ "The rich sound of this accordion is akin to models that cost much more." 
Pros:
This instrument is perfect for those who are just beginning to play because it offers only 12 bass buttons instead of 120 like the large models. 
The accordion feels incredibly comfortable in your hands and the light weight makes it easier to play. 
The rich sound of this accordion is akin to models that cost much more. 
Cons:
Because this instrument only has 12 bass buttons, you will likely eventually want to purchase a larger model. If you are a beginner, this instrument will carry you through a long way with practice and is worth the price. 
4. Hohner Panther G/C/F 3-Row Diatonic Accordion 3100GB – Black Bundle
Next on our list of the best accordion for beginners is this Hohner Panther. This bundle comes with everything a beginner or student would need to get started learning to play the accordion. 
This bundle comes with a strap, key chart, gig bag, mini harmonica, piano key stickers, and a polishing cloth. Weighing in at only nine pounds, this is an instrument that will not tire out your arms as you are learning to play. 
Button-style accordions are ideal for beginners. This instrument features three rows of 31 keys. The key placement is perfect for those who are learning. 
✔ "The lightweight design means no strain on your arms as you practice playing." 
Pros:
This bundle comes with everything you could need as a beginner. 
The improved grate offers a beautifully rich sound that will help beginners begin to shine as they play. 
The lightweight design means no strain on your arms as you practice playing. 
Cons:
This instrument lacks a bellow pad, which some players may find annoying.
5. Hohner Diatonic Panther Accordion in Black
A very worthy addition to the best accordion for beginners list. This accordion features three rows of 31 buttons and has 12 bass buttons. 
Weighing in at only fourteen pounds, you will find this is the perfect size accordion for just getting started. It's easier to play than a Piano accordion but offers a rich and beautiful sound that will keep you playing well into becoming an intermediate player. 
This is the most affordable three-row accordion on the market. This set comes with straps and a Diatonic Method book that will help you get started on learning to play. This accordion also comes with a cleaning cloth. 
✔ "The button placement is ideal for beginner accordion players." 
Pros:
The simple and lightweight design of this accordion makes it easy to play. 
This model offers a new and improved grill for a richer and more beautiful sound. 
The button placement is ideal for beginner accordion players. 
Cons:
This accordion does not come with a gig bag or case, but you can purchase them separately. 
Learning the Accordion – FAQs
Is the Accordion Hard to Learn?
The accordion can be quite challenging to learn, just like any instrument, but if you're up for the challenge it will be an enjoyable experience.
So you'll have to practice a lot. Find a genre of music or a range of songs you actually like and learning it will be a lot more fun.
Learning the accordion presents both challenges and rewards. Here's a friendly overview:
Keyboard familiarity: If you've played piano or keyboard before, the right-hand side (keyboard) will be easier to learn since it has a similar layout.
Bass buttons: The left-hand side (bass buttons) can be more challenging for beginners. The Stradella system arranges the buttons, and it takes time to learn their positions.
Coordination: Accordion playing requires both hands to work together. At first, it's tricky, but with practice, you'll develop muscle memory and it'll become more natural.
Bellows control: Mastering the bellows, which create sound by pushing air through the reeds, is crucial for good tone and dynamics. This skill takes practice to develop.
Complexity: The difficulty of learning the accordion depends on the complexity of the music you want to play. Starting with simple tunes preferably songs you personally enjoy makes it easier to build skills and confidence.
What Is a Small Accordion Called?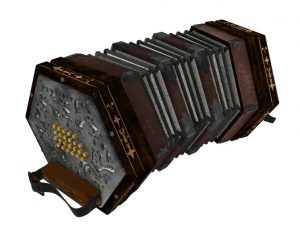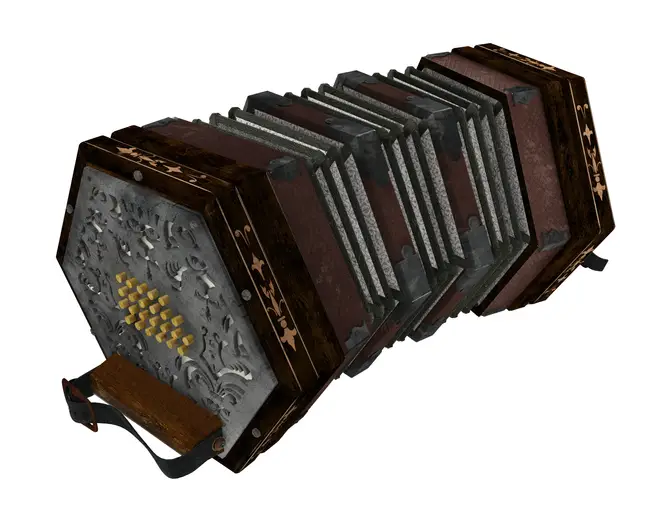 You are most likely thinking about the concertina. The concertina is not considered a "true" traditional accordion but it has so many familiar details and characteristics that it is generally classified as a type of accordion.
So it's fair to say they are accepted as accordions.
Their small size means they're great for travelling around with and are also instruments that small children can learn to play easily. When I was a child, I had a toy concertina which annoyed my parents very much!
The concertina is by far the smallest accordion you can buy and they are not just considered a novelty instrument, they are played professionally and some are really beautifully crafted.
Apart from being known as the smallest accordion, concertinas are also often associated with sailors who historically used to take them on their travels, this leads back to the advantages of the concertina being so small.
Concertinas are more popular in Europe and the variant name of concertinas available reflect their origin, (English, Anglo, German and Duet).
What's the Best Way to Learn to Play the Accordion for Beginners?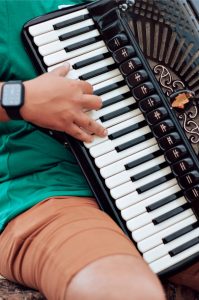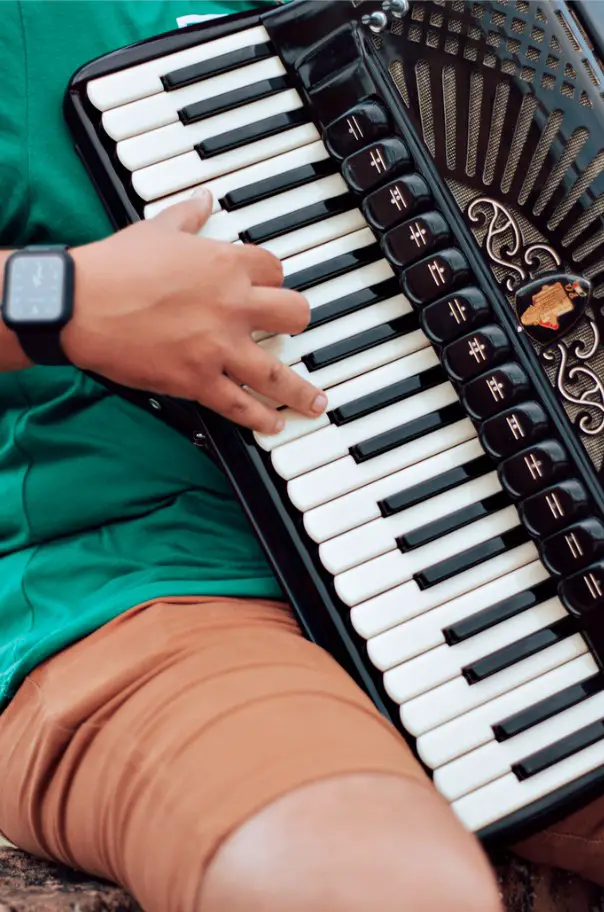 At first glance, the accordion with all of its buttons can look daunting or complex. But don't let this put you off. 
Like learning any instrument, when it comes to learning how to play the accordion it's going to take practice. 
Learning the accordion isn't too hard at all. In my experience, I have seen many can get comfortable playing the accordion from beginner level within about 2 to 4 months if maintaining a consistent practice of AT LEAST 15-mins every day 5 times a week.
The most tricky part of learning how to play the accordion is getting the hang of making each hand work independently, but most people overcome this hurdle with time.
There is a range of methods one can use to learn to play the accordion. Some use books, some use face-to-face courses, and some turn to YouTube. 
In my experience, face-to-face is by far the best way to learn an instrument, however, the drawback to this is that lesson time can become expensive.
The next best thing to being face-to-face with a teacher is to find a good online course. 
I always recommend Accordion courses on Udemy as many of their courses are of good quality and depth and many times you can reach out to the teachers if you need them to further clarify or explain something.
Another place I can recommend really highly is Lessonface, The unique thing about Lessonface over Udemy is that Lessonface has more of a community feel to it.
Lessonface puts you into contact with independent teachers from all around the world and allows you to book reasonably priced lessons with them. 
Some tutors on Lessonface.com also offer group lessons too which can be really fun. All courses are done online and they do offer free 15-minute trial sessions with any tutor to see if you like their way of teaching. Win-win. 
Limited offer: Get $15 off any Lessonface video lesson order, just use the code FOLKSTRINGS15 at checkout!
What Should I Look for in an Accordion?
So, you've decided you want to play the accordion, but you don't have a clue what to look for in your first instrument. Before buying, you must research. While you don't have to pay an arm and a leg for a good accordion, you also need to be wary of cheap offerings. 
Types of Accordions
Choosing the best accordion for beginners the first place to start is to choose the type of accordion.
As I said above, there are four types. You can choose Piano, Chromatic, Diatonic, and Concertina. Accordion beginners will find the Concertina is the easiest to play. As you gain experience, you may want to broaden your horizons with another type. Diatonic models are always sound choices. 
Size & Weight
You are also going to need to consider the size of the accordion. Accordions vary in size and weight. Some are bulkier than others, and they can weigh as much as thirty pounds. For beginners, I highly recommend an entry-level accordion that weighs around ten to twelve pounds. 
A lighter accordion will be easier to hold and play when you are just starting. You will find a lighter instrument to be less stressful on your arms so you won't become so fatigued as you play. 
Reeds
When choosing an accordion, the number of reeds is important. You can choose between one to four reeds. Since you are a beginner, I recommend you choose an accordion with two reeds. A two-reed accordion is called a Diatonic instrument. It has two reeds, one tuned to different pitches for each note. 
How Much Do Accordions Cost, Roughly?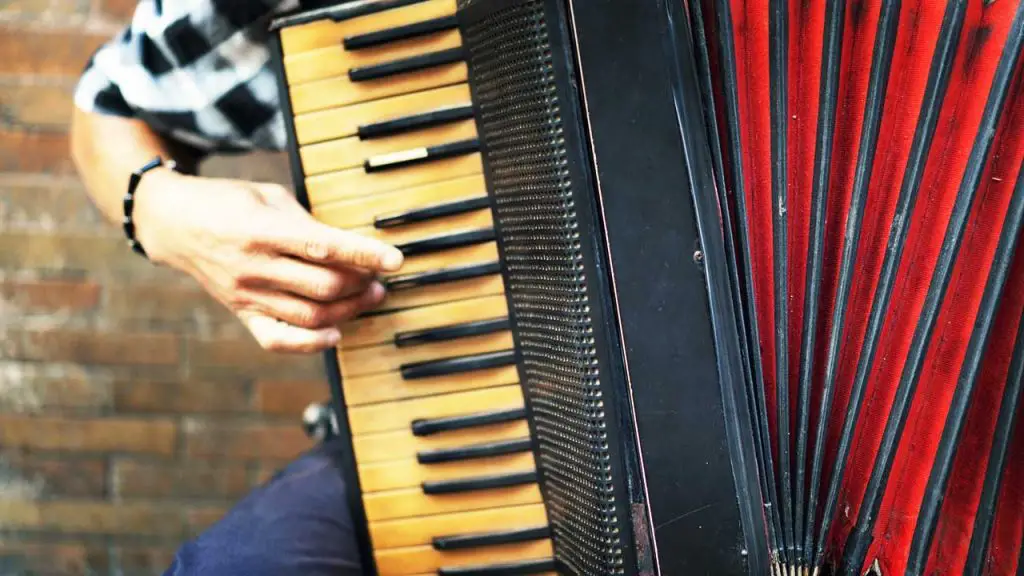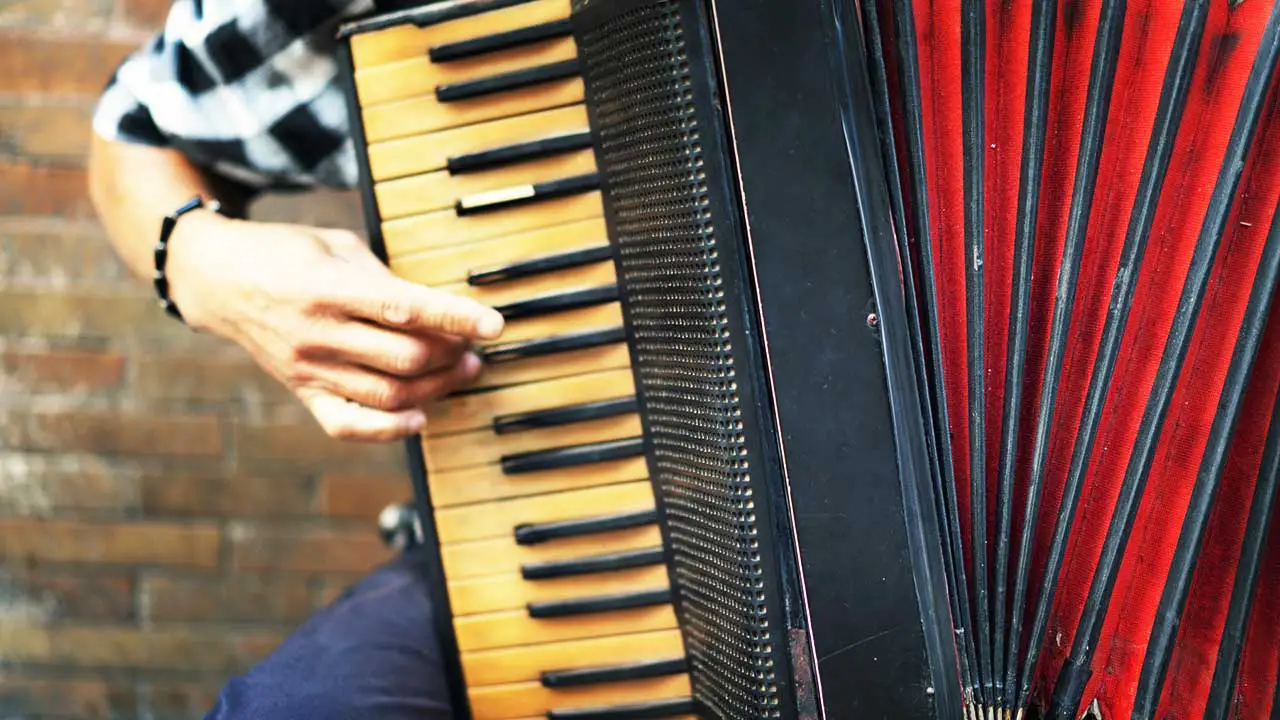 Aside from finding the actual best accordion for beginners, the cost is an important consideration.
Like most instruments, accordions range in price dramatically. You can find some under $100, but I do not recommend these models or brands. They are considered toys.
Many accordions under $100 are going to be made of cheap materials and sound horrific. Spare yourself the agony!
You can get a good accordion for beginners from $300 and up. While price should not be your main deciding factor, it undoubtedly is one to consider, especially if you are on a budget.
You do not have to purchase the most expensive, which can arise in the thousands of dollars, but you certainly don't want to purchase the cheapest accordion either. 
Conclusion – Best Accordion for Beginners (UPDATED 2023)
There you have it. This detailed guide should help you choose the best accordion for beginners. Feel free to research and click through the links to learn more about each instrument so you can choose the perfect one to help you learn to play the accordion like a pro.